LP SIZED BOX


| | | | |
| --- | --- | --- | --- |
| Release: 1996 | BMG BVCZ-1030~34 | Japan | 80 € |

BMG Japan imported the European box-set - (the

front

sticker

is hidden

under the obi) -

repacked the box with a large wrap-around
obi and a 64 pages booklet in Japanese and English.

Discs made by Disctronics, England - box & booklet are made in Germany - the obi & the 64 pages booklet are made by BMG Japan.
ALL INFO: P. BAUMANN



WRAP-AROUND OBI ¥12,500

LP sized box with 5 CDs in individual jewel cases


- a 48 pages booklet with one-hundred and fifty-nine pictures. (booklet is from the European box-set)


- a 64 pages booklet with two pictures, liner notes, lyrics in Japanese and English




Each CD came with a gatefold inlay with two pictures, old RCA
and BMG logos.


One picture, old RCA, BMG and Recycling logos on back.


| | |
| --- | --- |
| FRONT & BACK OF THE 64 PAGES JAPANESE BOOKLET | TEXT FROM BACK OF THE BOOKLET |
ELVIS - WALK A MILE IN MY SHOES - THE SINGLES



MATRIX NUMBER:

S 743213-03312 ONE 01 ELVIS PRESLEY

(YOU MAY COME ACROSS OTHER NUMBERS)
01
02
03
04
05
06
07
08
09
10
11
12
13
14
15
16
17
18
19
20
21
22
23
The Wonder Of You
I've Lost You
The Next Step Is Love
You Don't Have To Say You Love Me
Patch It Up
I Really Don't Want To Know
There Goes My Everything
Rags To Riches
Where Did They Go, Lord
Life
I'm Leavin'
Heart Of Rome
It's Only Love
The Sound Of Your Cry
I Just Can't Help Believin'
How The Web Was Woven
Until It's Time For You To Go
We Can Make The Morning
An American Trilogy
The First Time Ever I Saw Your Face
Burning Love
It's A Matter Of Time
Separate Ways
US-RC1-70-01864
US-RC1-70-01357
US-RC1-70-01865
US-RC1-70-01358
US-RC1-70-01866
US-RC1-70-01867
US-RC1-70-01868
US-RC1-70-01869
US-RC1-70-01870
US-RC1-70-01871
US-RC1-71-01872
US-RC1-70-01873
US-RC1-71-01874
US-RC1-70-01875
US-RC1-70-01356
US-RC1-70-01876
US-RC1-71-01877
US-RC1-71-01878
US-RC1-72-01880
US-RC1-71-01879
US-RC1-72-01881
US-RC1-72-01882
US-RC1-72-01883
ELVIS - WALK A MILE IN MY SHOES - THE SINGLES



MATRIX NUMBER:

S 743213-03312 TWO 01 IFPI L502

(YOU MAY COME ACROSS OTHER NUMBERS)
01
02
03
04
05
06
07
08
09
10
11
12
13
14
15
16
17
18
19
20
21
22
23
24
Always On My Mind
Fool
Steamroller Blues
Raised On Rock
For Ol' Times Sake
I've Got A Thing About You Baby
Take Good Care Of Her
If You Talk In Your Sleep
Promised Land
It's Midnight
My Boy
Loving Arms
T-R-O-U-B-L-E
Mr. Songman
Bringing It Back
Pieces Of My Life
Green, Green Grass Of Home
Thinking About You
Hurt
For The Heart
Moody Blue
She Thinks I Still Care
Way Down
Pledging My Love
US-RC1-72-01360
US-RC1-72-00213
US-RC1-73-01884
US-RC1-73-00223
US-RC1-73-00228
US-RC1-73-00208
US-RC1-73-00203
US-RC1-73-01885
US-RC1-73-01886
US-RC1-73-01887
US-RC1-73-00209
US-RC1-73-00204
US-RC1-75-01890
US-RC1-73-01888
US-RC1-75-01891
US-RC1-75-01892
US-RC1-75-01893
US-RC1-73-01889
US-RC1-76-01894
US-RC1-76-01895
US-RC1-76-01896
US-RC1-76-01897
US-RC1-76-01898
US-RC1-76-01899
ELVIS - WALK A MILE IN MY SHOES - STUDIO HIGHLIGHTS 1970-71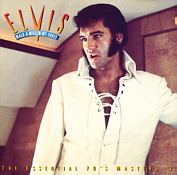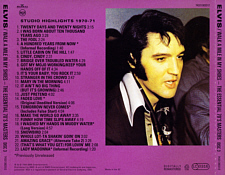 MATRIX NUMBER:

S 743213-03312 THREE 01 IFPI L502 IFPI 8700

(YOU MAY COME ACROSS OTHER NUMBERS)
01
02
03
04
05
06
07
08
09
10
11
12
13
14
15
16
17
18
19
20
21
22
23
Twenty Days And Twenty Nights
I Was Born About Ten Thousand Years Ago
The Fool
A Hundred Years From Now (informal recording)
Little Cabin On The Hill
Cindy, Cindy
Bridge Over Troubled Water
Got My Mofo Working / Keep Your Hands Off Of It
It's Your Baby, You Rock It
Stranger In The Crowd
Mary In The Morning
It Ain't No Big Thing (But It's Growing)
Just Pretend
Faded Love (original unedited version)
Tomorrow Never Comes (includes false start)
Make The World Go Away
Funny How Time Slips Away
I Washed My Hands In Muddy Water (long version)
Snowbird
Whole Lot-Ta Shakin' Goin' On
Amazing Grace (take 2)
(That's What You Get) For Lovin' Me
Lady Madonna (informal recording)
US-RC1-70-01900
US-RC1-70-01901
US-RC1-70-01902
US-RC1-70-01903
US-RC1-70-01904
US-RC1-70-01905
US-RC1-70-01359
US-RC1-70-01906
US-RC1-70-01907
US-RC1-70-01908
US-RC1-70-01909
US-RC1-70-01910
US-RC1-70-01911
US-RC1-70-01912
US-RC1-70-01914
US-RC1-70-01915
US-RC1-70-01916
US-RC1-70-01917
US-RC1-70-01918
US-RC1-70-01919
US-RC1-71-01920
US-RC1-71-00218
US-RC1-71-01921
ELVIS - WALK A MILE IN MY SHOES - STUDIO HIGHLIGHTS 1971-76



MATRIX NUMBER:

S 743213-03312 FOUR 02 IFPI L502 IFPI

(YOU MAY COME ACROSS OTHER NUMBERS)
01
02
03
04
05
06
07
08
09
10
11
12
13
14
15
16
17
18
19
20
21
22
23
Merry Christmas Baby
I Shall Be Released (informal recording)
Don't Think Twice, It's Alright (jam edit)
IIt's Still Here (unedited, ending with Felton Jarvis talking)
II'll Take You Home Again Kathleen (undubbed version)
I Will Be True
My Way (master)
For The Good Times (master)
Just A Little Bit
It's Diff'rent Now (rehearsal)
Are You Sincere
I Got A Feelin' In My Body
You Asked Me To
Good Time Charlie's Got The Blues
Talk About The Good Times
Tiger Man (jam, 3/11/75)
I Can Help
Susan When She Tried
Shake A Hand
She Thinks I Still Care (take 2B)
Danny Boy
Love Coming Down
He'll Have To Go
US-RC1-71-01167
US-RC1-71-01922
US-RC1-71-01923
US-RC1-71-01924
US-RC1-71-01925
US-RC1-71-01926
US-RC1-71-01927
US-RC1-72-01928
US-RC1-73-00230
US-RC1-73-01929
US-RC1-73-00224
US-RC1-73-00205
US-RC1-73-01930
US-RC1-73-00212
US-RC1-73-00211
US-RC1-75-01932
US-RC1-75-01934
US-RC1-75-01935
US-RC1-75-01936
US-RC1-76-01937
US-RC1-76-01938
US-RC1-76-01939
US-RC1-76-01940
ELVIS - WALK A MILE IN MY SHOES - THE ELVIS PRESLEY SHOW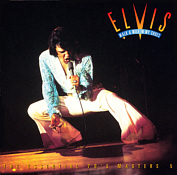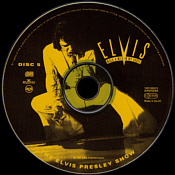 MATRIX NUMBER:

S 743213-03312 FIVE 01 IFPI L502 IFPI 8708

(YOU MAY COME ACROSS OTHER NUMBERS)
01
02
03
04
05
06
07
08
09
10
11
12
13
14
15
16
17
18
19
20
21
22
23
24
25
26
27
See See Rider (live, 2/18/70)
Men With Broken Hearts (short poem, live, 8/11/70)
Walk A Mile InMy Shoes (live, 2/19/70)
Polk Salad Annie (live, February 1970)
Let It Be Me (live, 2/17/70)
Proud Mary (live, 2/16/70)
Something (master - live, 8/11/70)
You've Lost That Lovin' Feelin' (live, 8/13/70)
Heartbreak Hotel (live, 8/11/70)
I Was The One (live, 8/13/70)
One Night (live, 8/11/70)
Never Been To Spain (master - live, 2/16/72)
You Gave Me A Mountain (master - live, 2/16/72)
It's Impossible (live, 2/16/72)
A Big Hunk O'Love (master - live, 2/16/72)
It's Over (master - live, 2/17/72)
The Impossible Dream (live, 2/16/72)
Reconsider Baby (live, 6/10/72 ES)
I'll Remember You (live, 6/10/72 AS)
I'm So Lonesome I Could Cry (live, 1/14/73)
Suspicious Minds (live, 1/14/73)
Unchained Melody (live, 4/24/77)
The Twelfth Of Never (rehearsal - 8/16/74)
Softly As I Leave You (rehearsal - 8/16/74)
Alla' En El "Rancho Grande" (recorded July 15, 1970)
Froggy Went A Courtin' (jam - July 29, 1970)
Stranger In My Own Home Town (rehearsal - July 24, 1970)
US-RC1-70-02331
US-RC1-70-02332
US-RC1-70-02333
US-RC1-70-02334
US-RC1-70-02335
US-RC1-70-02336
US-RC1-70-02337
US-RC1-70-02338
US-RC1-70-02339
US-RC1-70-02340
US-RC1-70-02341
US-RC1-72-02345
US-RC1-72-02346
US-RC1-72-02347
US-RC1-72-02348
US-RC1-72-02349
US-RC1-72-02350
US-RC1-72-02351
US-RC1-72-02352
US-RC1-73-02353
US-RC1-73-02354
US-RC1-77-02357
US-RC1-74-02355
US-RC1-74-02356
US-RC1-70-02342
US-RC1-70-02343
US-RC1-70-02344