| | |
| --- | --- |
| | THE EFFECT OF THE BOX IS LIKE A SHOP-WINDOW |
2-CD- / 1-DVD-SET IN A CLEAR PLASTIC BOX WITH A SPECIAL PICTURE, SONY MUSIC, GSM LOGOS, GSM AND ELVIS PRESLEY STICKER


| | | | |
| --- | --- | --- | --- |
| Release: 2009 | Sony Music / GSM Music GSM-09022P | China | 20 € |


This box-set is part of a Chinese series

'Platinum Collection of the Superstars in Europe and America'

with artist as Whitney Houston, Britney Spears, Christina Aguilera, Backstreet Boys, Avril Lavigne and others.

Came with a 16 pages booklet with lyrics in English to all songs, Sony Music and GSM logos + GSM Music post-card

The two CDs + the one DVD are housed in a jewel-case (a little bit thicker than usual) housed in a see-through black plastic box. The effect is like a shop-window.



FRONT & BACK INSERT OF THE JEWEL BOX FOR THE THREE DISCS


CD1:
Artist Of The Century I
Matrix number: ISRC CN-F18-04-664-00/A.J6-1 ifpi H410


01
02
03
04
05
06
07
08
09
10
11
12
13
14
15
Good Rockin Tonight
Baby Let's Play House
Mystery Train
Trying To Get To You
My Baby Left Me
Lawdy,Miss Clawdy
Any Way You Want Me (That's How I Will Be )
Any Plcae Is Paradise
(You 're So Square)Baby I Don't Care
Santa Clause Is Back In Town
Hard Headed Woman
Wear My Ring Around Your Neck
A Big Hunk O' Love
Don't Cry Daddy
I'll Hold You In My Heart

CD2:
Artist Of The Century II
Matrix number: ISRC CN-F18-04-664-00/A.J6-2 ifpi H410


01
02
03
04
05
06
07
08
09
10
11
12
13
14
Stuck On You
A Mess Of Blues
Like A Baby
Such A Night
That's Someone You Never Forget
(Marie's The Name)His Latest Flame
Memphis Tennessee
Down In The Alley
Run On
Tomorrow Is A Long Time
Guitar Man
Tiger Man
Stranger In My Own Home Town
After Loving You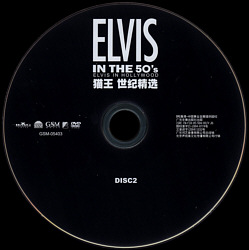 DVD:
In The 50s - Elvis in Hollywood (Disc 2 - Elvis '56 - GSM-05403)

Introduction - An American Trilogy / Baby, What You Want Me To Do / Blue Suede Shoes / Good Rockin' Tonight / Heartbreak Hotel
Shake, Rattle & Roll / Hot Diggity Dog Diggity
Baby Let's Play House / Baby What You Want Me To Do / Tutti Frutti / My Baby Left Me
Heartbreak Hotel / Blue Moon / Blue Suede Shoes
Hound Dog
He's Only A Prayer Away / Lawdy Miss Clawdy
Hound Dog
Don't Be Cruel / Trying To Get To You / Anyway You Want Me
Shake, Rattle & Roll / Ready Teddy / Love Me Tender
Ready Teddy / Love Me Tender / Heartbreak Hotel / Don't Be Cruel
(There'll Be) Peace In The Valley (For Me) / Love Me / My Baby Left Me