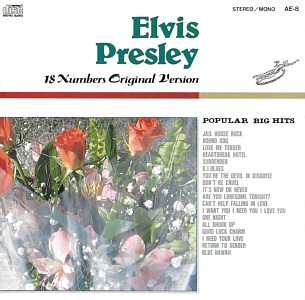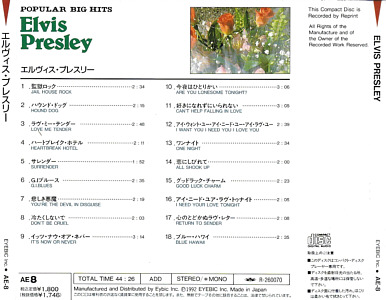 | | | |
| --- | --- | --- |
| Release: 1992 | Eyebic AE-8 | Japan |
Different spelling of the manufacturer on this release. Correct should be Eyebic:
Manufactured by SKC for Eyebic, as exclusive impot sales agent in Japan and ℗ 1992 Eyebic Inc. is printed on CD.
Manufactured and dsitributed by Eżbic Inc., Made in Japan and ℗ 1992 Eybic Inc.,Japan, is printed on back.
JASRAC R-260070 on back and on CD. Flag " 1,800 around the case.
Comes with a gatefold inlay, inside blank
Part of a CD series by "Eyebic" with various artists like The Rolling Stones, The Beatles, Ray Charles, Diana Ross, Dusty Springfield, Sammy Davis Jr., Beach Boys a.o.
The series includes 50 CDs, all published in the year 1992.
UPC/EAN: 4976171710085

Matrix number: AE-8 T102-14760 <01>
01
02
03
04
05
06
07
08
09
10
11
12
13
14
15
16
17
18
Jailhouse Rock
Hound Dog
Love Me Tender
Heartbreak Hotel
Surrender
G.I. Blues
(You're The) Devil In Disguise
Don't Be Cruel
It's Now Or Never
Are You Lonesome Tonight?
Can't Help Falling In Love
I Want You, I Need You, I Love You
One Night
All Shook Up
Good Luck Charm
I Need Your Love Tonight
Return To Sender
Blue Hawaii
02:34
02:15
02:48
02:11
01:52
02:35
02:19
02:03
03:14
03:06
03:05
02:39
02:34
02:00
02:23
02:05
02:08
02:35