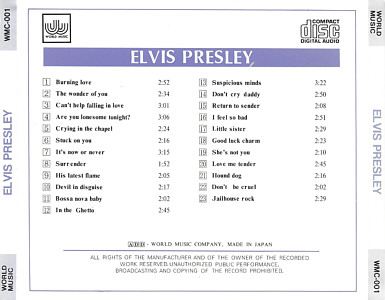 | | | |
| --- | --- | --- |
| Release: 1991 | World Music Company WMC-001 | Japan |

Printed on back and on CD is: "Made in Japan", but this release has not the typical signs of a Japan distribution.
No sign of the copyright (JASRAC) on CD. No flag/Obi around the case. It is possible that this CD was distributed in South-Korea, although no "K.E.C.P.P." note is on CD.
Whatever... most possible this CD is illegal. Not all songs are covered by the copyright loophole.
See also Best Collection Vol. 1 - Old Pops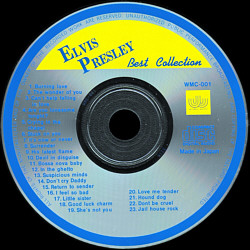 Matrix number: WMC-001 3216
01
02
03
04
05
06
07
08
09
10
11
12
13
14
15
16
17
18
19
20
21
22
23
Burning Love
The Wonder Of You
Can't Help Falling In Love
Are You Lonesome Tonight?
Crying In The Chapel
Stuck On You
It's Now Or Never
Surrender
(Marie's The Name) His Latest Flame
(You're The) Devil In Disguise
Bossa Nova Baby
In The Ghetto
Suspicious Minds
Don't Cry Daddy
Return To Sender
I Feel So Bad
Little Sister
Good Luck Charm
She's Not You
Love Me Tender
Hound Dog
Don't Be Cruel
Jailhouse Rock

02:52
02:34
03:01
03:06
02:24
02:16
03:15
01:52
02:05
02:17
02:02
02:45
03:22
02:50
02:08
02:51
02:29
02:23
02:10
02:45
02:16
02:02
02:29