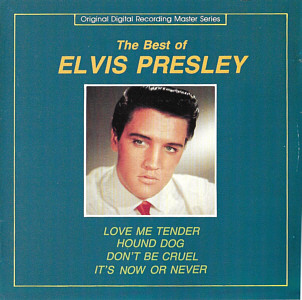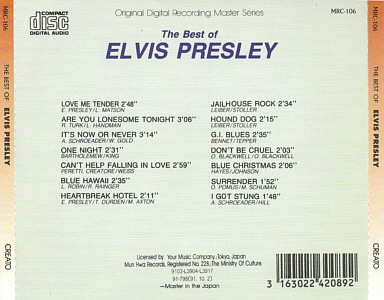 | | | |
| --- | --- | --- |
| Release: 1992 | Creato MRC-106 | South Korea |

Printed on back is: "Licensed by Your Music Company, Tokyo, Japan. Mun Hwa Records. Registered No. 228, The Ministery of Culture.
Also on back is written "Master in the Japan" (sic),
On the edge of the CD is printed the phrase: Reg No. 228 the Minstery of Culture Passed Censorship by K.E.C.P.P
Info: KECPP stands for Korean Ehtics Committee for Public Perfomance. During the dictatorship periods (until June 1987) it was common for the South Korean Ministry of Culture to disapprove of certain songs on western albums and not to grant a release license unless the "offending" tracks were dropped. The period after June saw a partial lifting of the ban of on outlawed song, but the power of the KECPP to censor the arts remained intact.
On spine is printed Creato MRC-106, on CD Creato 325. Comes with an gatefold inlay, inside blank.
Different titles "Best of Elvis Presley" and "The Best of Elvis Presley" on front / back and on CD.
UPC/EAN: 3164222300892
Possibly an illegal printing (not confirmed). The used bar code 3164222300892 was registered in France for a wholesale company for glasses, dishes and kitchenware. This barcode was also used for other CD titles.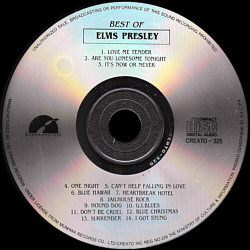 Matrix number: CREATO-325 ~ 9103-L3904-L3917
01
02
03
04
05
06
07
08
09
10
11
12
13
14
Love Me Tender
Are You Lonesome Tonight?
It's Now Or Never
One Night
Can't Help Falling In Love
Blue Hawaii
Heartbreak Hotel
Jailhouse Rock
Hound Dog
G.I. Blues
Don't Be Cruel
Blue Christmas
Surrender
I Got Stung

02:48
03:06
03:14
02:31
02:59
02:35
02:11
02:34
02:15
02:35
02:03
02:06
01:52
01:48