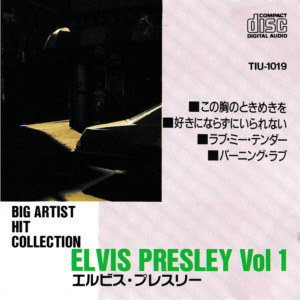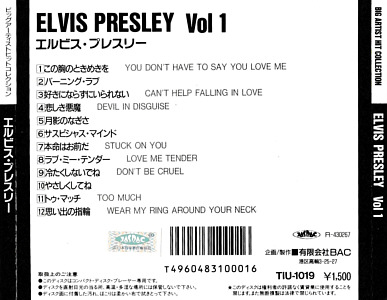 | | | |
| --- | --- | --- |
| Release: 1994 | BAC TIU-1019 | Japan |

JASRAC R-430267on disc. Made in Korea is written on disc.
Part of the Big Artist Hit Collection from TIU with artists like The Rolling Stones, Deep Purple, Billy Vaughn, The Beatles a.o.
Probably this release is illegal because some songs aren't in the copyright loophole at the time of publishing.
UPC/EAN: 4960483100016
Note: The same barcode was used for several CDs with recordings from Conni Francis, Neil Sedaka, Carpenters a.o. and also Elvis Presley Vol. 1 - Best Artist Collection
Same contet and matrix number as on the CD from 1990 "Elvis Presley Vol. 1 - You Don't Have to Say You Love Me"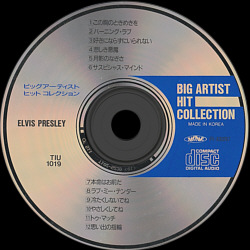 Matrix number: CF 511 T102-5239 <01>
01
02
03
04
05
06
07
08
09
10
11
12
You Don't Have To Say You Love Me
Burning Love
Can't Help Falling In Love
(Your're The) Devil In Disguise
Moonlight Swim
Suspicious Mind
Stuck On You
Love Me Tender
Don't Be Cruel
Treat Me Nice
Too Much
Wear My Ring Around My Neck
02:30
02:51
03:00
02:20
02:18
03:33
02:15
02:44
02:02
02:13
02:31
02:12