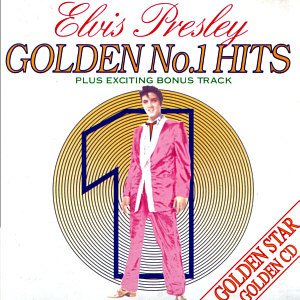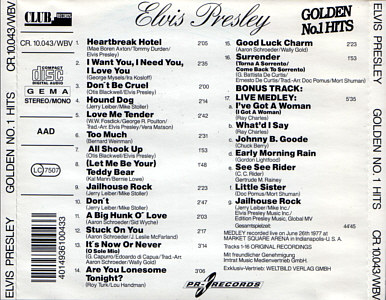 | | | |
| --- | --- | --- |
| Release: 1993 | Club Records CR 10043/WBV | Germany |

GEMA on disc.
Distributed by the Germann Weltbild Verlag (a chain of book- and musicstores, owned by the Catholic church).
On the back is printed: Courtesy of Imtrat Music Medienvertrieb GmbH.
Imtrat was a distribution company based in Landshut, Bavaria.
The company exploited loopholes in the European copyright law during the late 1980s and early 1990s.
Although their CD issues were mostly fully "legal", their releases were not authorised and were produced in bulk for the low-budget market.

Gold colored disc.
UPC/EAN: 4014936100433
Matrix number:

B 23645


01
02
03
04
05
06
07
08
09
10
11
12
13
14
15
16
17

Heartbreak Hotel
I Want You, I Need You, I Love You
Don't Be Cruel
Hound Dog
Love Me Tender
Too Much
All Shook Up
Teddy Bear
Jailhouse Rock
Don't
A Big Hunk O'Love
Stuck On You
It's Now Or Never
Are You Lonesome Tonight?
Good Luck Charm
Surrender
Live Medley *
02:07
02:35
02:00
02:14
02:42
02:31
01:53
01:48
02:23
02:47
02:03
02:17
03:14
03:06
02:23
01:53
05:35

On the layout art work you can read GOLDEN No.1 HITS (purple not yellow) and PLUS EXITING BONUS RACK - GOLDEN STAR - GOLDEN CD on bottom right is missing (info: P. Baumann)

* Live medley - edited, June 26, 1977: I Got A Woman / What'd I Say / Johnny B. Goode / Early Morning Rain / See See Rider / Little Sister / Jailhouse Rock
(This source was taken from a bootleg release!)