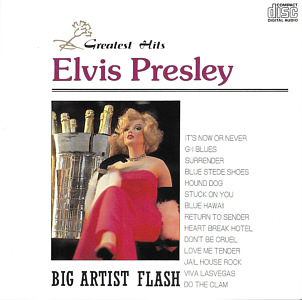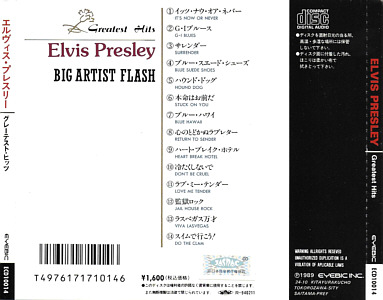 | | | |
| --- | --- | --- |
| Release: 1989 | Eyebic ECD 10014 | Japan |
Manufactured and distributed by Eyebic, Japan.
℗ 1989 Eyebic Inc., Japan
JASRAC R-940211 on back and on CD. Flag ¥ 1,600 around the case.
Comes with a gatefold inlay with track listings, inside blank
Part of a CD series by "Eyebic" with various artists like ABBA, The Eagles, Elton John, Queen, Olivia Newton-John a.o.
The series includes more than 30 CDs, all published in the year 1989.
UPC/EAN: 4976171710146
Matrix number: ECD 10014 T102-5791 <01>
01
02
03
04
05
06
07
08
09
10
11
12
13
14
It's Now Or Never
G.I. Blues
Surrender
Blue Suede Shoes (electronic stereo)
Hound Dog (electronic stereo)
Stuck On You
Blue Hawaii
Return To Sender
Heartbreak Hotel (electronic stereo)
Don't Be Cruel (electronic stereo)
Love Me Tender (electronic stereo)
Jailhouse Rock (electronic stereo)
Viva Las Vegas
Do The Clam