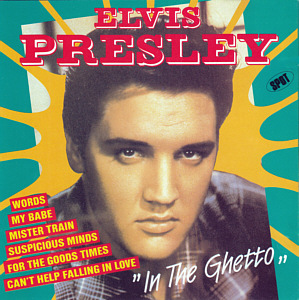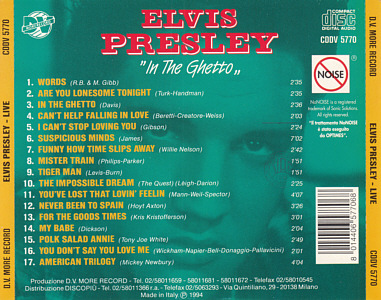 | | | |
| --- | --- | --- |
| Release: 1994 | More Record CDDV 5770 | Italy |

Manufactured by D.V. More Record s.r.l. ℗ 1994
Distriburted by Disco PIU s.r.l, Italy.
Comes with a gatefold inlay.
SIAE stamp on back.
The Italian company D.V. More Record exploited loopholes in the European copyright law since the late 1980s.
Although their CD issues were mostly fully "legal", their releases were not authorised and were produced in bulk for the low-budget market.
D.V. More Record also produced illegal CDs. So also this CD! All songs are live recordings from 1969 and early 70's and were not covered by the copyright loophole and we can also say "bootleg" to it.
All songs are soundboard and mult-track live recordings and in mono.
UPC/EAN: 8014406577068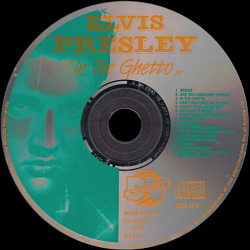 Matrix number: MANUFACTURED IN ITALY BY OPTI.ME.S. 991950120931 1412-A
01
02
03
04
05
06
07
08
09
10
11
12
13
14
15
16
17
Words
Are You Lonesome Tonight?
In The Ghetto
Can't Help Falling In Love
I Can't Stop Loving You
Suspicious Minds
Funny How Time Slips Away
Mystery Train
Tiger Man
The Impossible Dream
You've Lost That Lovin' Feelin'
Never Been To Spain
For The Good Times
My Babe
Polk Salad Annie
You Don't Have To Say You Love Me
An American Trilogy
02:37
02:37
02:38
02:05
02:27
07:06
02:45
01:15
01:37
02:28
04:11
03:28
03:04
02:07
02:52
02:04
04:05