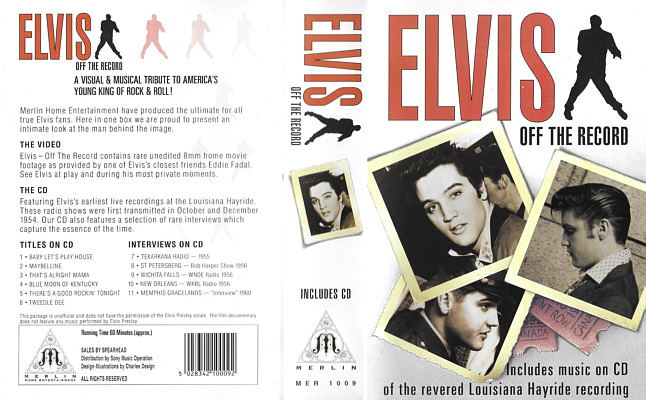 VHS Cassette Cover
| | | |
| --- | --- | --- |
| Release: 1994 | Merlin MER 009 | UK |
This CD is an attachment to the Merlin VHS Video Cassette "Off The Record".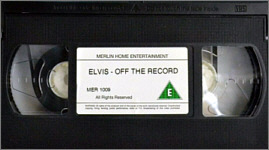 The video contains unedited 8mm home movie footage as provided by one of Elvis's closet friends Eddie Fadal.
On back of the VHS Cassette is written: "This package is unofficial and does not have the permission of the Elvis Presley estatate.
The film documentary does not feature any music performed by Elvis Presley.
Austro Mechana on CD.

Manufactured by Tentcrest Ltd. / The Merlin Group, UK

UPC/EAN: 5028342100092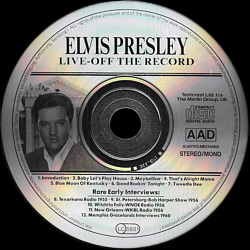 Matrix number: 311.671
01
02
03
04
05
06
07
08
09
10
11
12
13
Horace Logan introduces Elvis (August 20, 1955)
Baby Letīs Play House (August 20, 1955)
Maybelline (August 20, 1955)
Thatīs All Right (August 20, 1955)
Blue Moon of Kentucky (October 15, 1954)
Good Rockin' Tonight (March 19, 1955)
Tweedle Dee (April 30, 1955)
Bob Neal Interview, WMPS, Memphis (August 31, 1955)
Bob Hoffer Interview, St. Petersburg/Florida (August 7, 1956)
Jay Thompson Interview, Wichita Falls (April 9, 1956)
Jim Stewart / Larry Monroe / Hal Murray, WNOE, New Orleans (July 10, 1956)
Red Smith, WBOK, New Orleans, Louisiana (July 10, 1956)
Excerpts of the Graceland Press Conference (March 8, 1960)