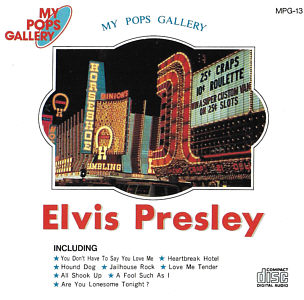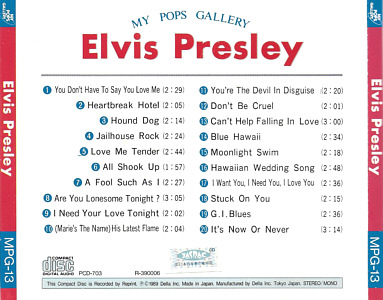 | | | |
| --- | --- | --- |
| Release: 1993 | Della Inc. PCD-703 / MPG-13 | Japan |

Manufactured by Della Inc., 1993, but ℗ © 1988 by Della Inc., Japan, is printed in back and on CD.

JASRAC R-390006 on CD and on back.
Comes with a gatefold inlay, inside blank and an additional fold-out inlay with lyrics.
This CD appears to be part of a "My Pops Gallery" CD series. If so... the other titles are unknown to us.
See also the Della CD "Favourite Rock Artist Series" with the same content.
Probably this release is illegal because some songs aren't in the copyright loophole at the time of publishing.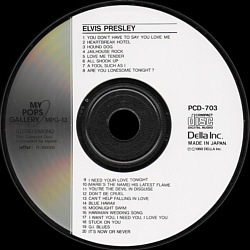 Matrix number: PCD-703 JB005 D
01
02
03
04
05
06
07
08
09
10
11
12
13
14
15
16
17
18
19
20
You Don't Have To Say You Love Me
Heartbreak Hotel
Hound Dog
Jailhouse Rock
Love Me Tender
All Shook Up
(Now And Then There's) A Fool Such As I
Are You Lonesome Tonight?
I Need Your Love Tonight
(Marie's The Name) His Latest Flame
(You're The) Devil In Disguise
Don't Be Cruel
Can't Help Falling In Love
Blue Hawaii
Moonlight Swim
Hawaiian Wedding Song
I Want You, I Need You, I Love You
Stuck On You
G.I. Blues
It's Now Or Never