| | | |
| --- | --- | --- |
| | | |
| Cardbox front | Cardbox site | Cardbox back |
| | | |
| --- | --- | --- |
| Release: 1992 | Club Records CR 00.001 | Germany |


GEMA on disc.
10 CD box. CDs came only with back inlay.
Distributed by Imtrat GmbH, Landshut/Germany.
Imtrat was a distribution company based in Landshut, Bavaria.
The company exploited loopholes in the European copyright law during the late 1980s and early 1990s.
Although their CD issues were mostly fully "legal", their releases were not authorised and were produced in bulk for the low-budget market.
Vol. 1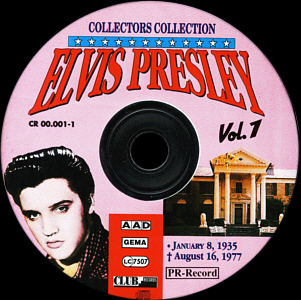 CR 00.001-1
Matrix: A 5863
Good Rockin" Tonight - Blue Moon Of Kentucky - Milkcow Blues Boogie - Baby Let's Play House - Mystery Train 6. That's All Right - I Love You Because - Blue Moon - I Got A Woman - Heartbreak Hotel - I Was The One - My Baby Left Me - So Glad You're Mine - What'd I Say
Vol. 2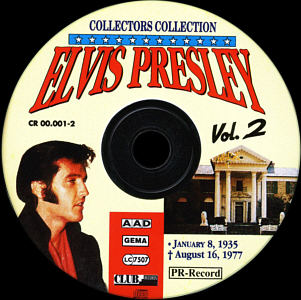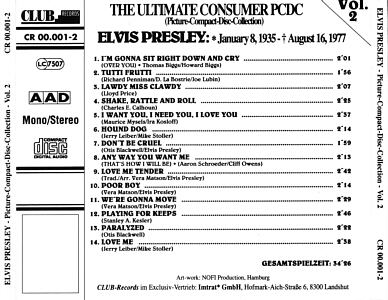 CR 00.001-2
Matrix: A 5870
I'm Gonna Sit Right Down And Cry (Over You) - Tutti Frutti - Lawdy Miss Clawdy - Shake, Rattle And Roll - I Want You, I Need You, I Love You - Hound Dog - Don't Be Cruel - Anyway You Want Me - Love Me Tender - Poor Boy - We're Gonna Move - Playing For Keeps - Paralyzed - Love Me
Vol. 3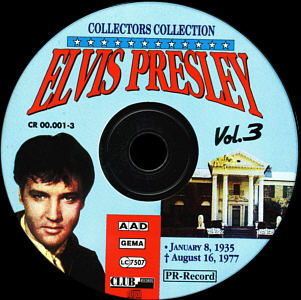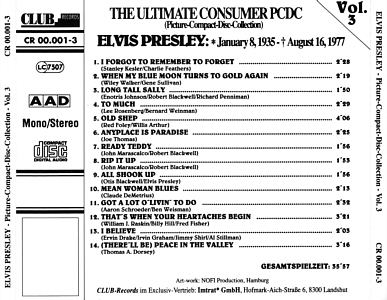 CR 00.001-3
Matrix: A 5881
I Forgot To Remember To Forget - When My Blue Moon Turns To Gold Again - Long Tall Sally - Too Much - Old Shep - Anyplace Is Paradise - Ready Teddy - Rip It Up - All Shook Up - Mean Woman Blues - I Got A Lot O' Livin' To Do - That When Your Heartaches Begin - I Believe - (There'll Be) Peace In The Valley
Vol. 4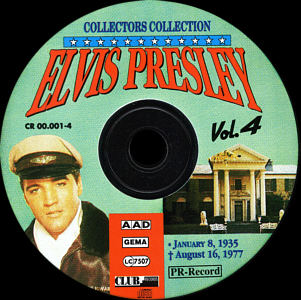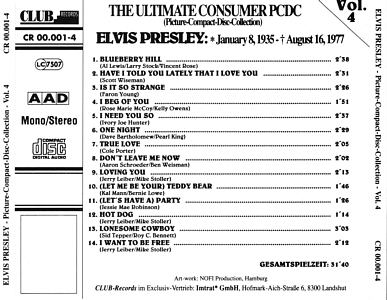 CR 00.001-4
Matrix: A 5896
Blueberry Hill- Have I Told You Lately That I Love You - Is It So Strange - I Beg Of You - I Need You So - One Night - True Love - Don't Leave Me Now - Loving You - (Let Me Be Your) Teddy Bear - (Lets Have A) Party - Hot Dog - Lonesome Cowboy - I Want To Be Free
Vol. 5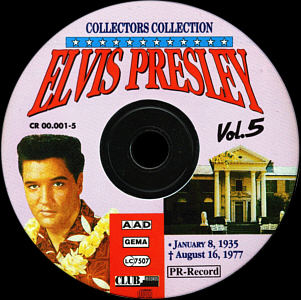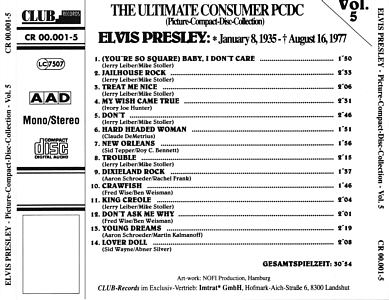 CR 00.001-5
Matrix: A 5907
(You're So Square) Baby I Don't Care - Jailhouse Rock - Treat Me Nice - My Wish Came True - Don't - Hard Headed Woman - New Orleans - Trouble - Dixieland Rock - Crawfish- King Creole - Don't Ask Me Why - Young Dreams - Lover Doll
Vol. 6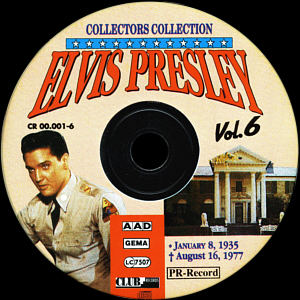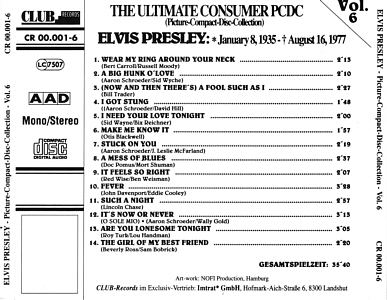 CR 00.001-6
Matrix: A 5918
Wear My Ring Around Your Neck - A Big Hunk O' Love - (Now And Then There's) A Fool Such As I - I Got Stung - I Need Your Love Tonight - Make Me Know It - Stuck On You - A Mess Of Blues- It Feels So Right - Fever - Such A Night - Its Now Or Never - Are You Lonesome Tonight - The Girl Of My Best Friend
Vol. 7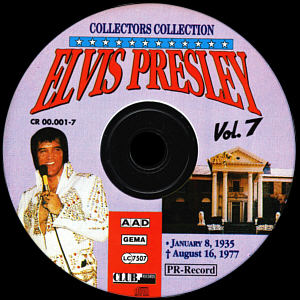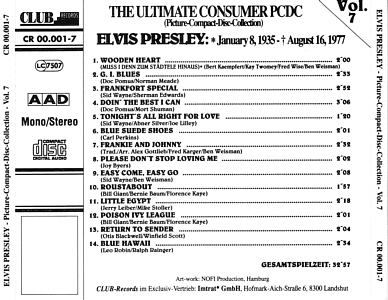 CR 00.001-7
Matrix: A 6035
Wooden Heart - G. I. Blues - Frankfort Special - Doin' The Best I Can - Tonight's All Right For Love - Blue Suede Shoes - Frankie And Johnny - Please Don't Stop Loving Me - Easy Come. Easy Go - Roustabout - Little Egypt - Poison Ivy League - Return To Sender - Blue Hawaii
Vol. 8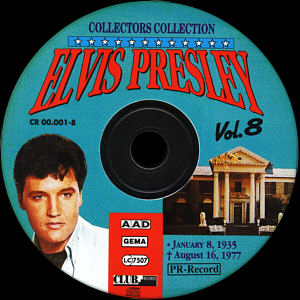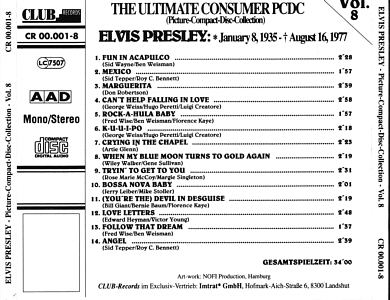 CR 00.001-8
Matrix: A 6049
Fun In Acapulco - Mexico - Marguerite - Can't Help Falling In Love - Rock-A-Hula Baby - Ku-U-I-Po - Crying In The Chapel - When My Blue Moon Turns To Gold Again - Tryin' To Get To You - Bossa Nova Baby - (You're The) Devil In Disguise - Love Letters - Follow That Dream - Angel
Vol. 9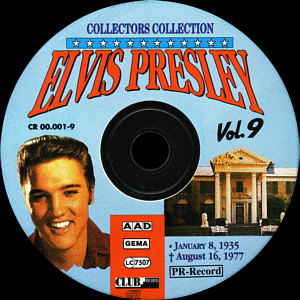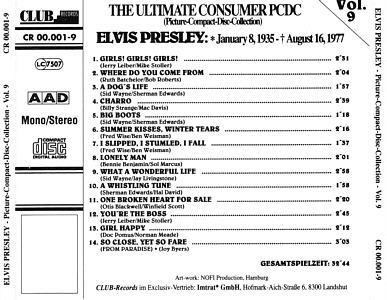 CR 00.001-9
Matrix: A 6052
Girls! Girls! Girls! - Where Do You Come From - A Dog's Life - Charro - Big Boots- Summer Kisses, Winter Tears - I Slipped, I Stumled, I Fell - Lonely Man - What A Wonderful Life - A Whistling Tune - One Broken Heart For Sale - You're The Boss - Girl Happy - So Close, Yet So Fare
Vol. 10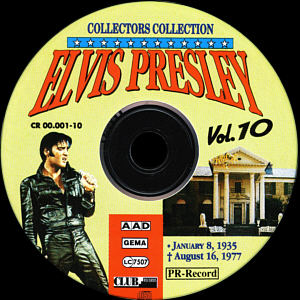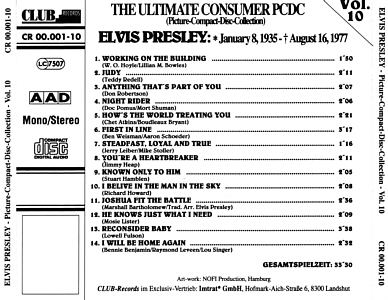 CR 00.001-10
Matrix: A 5724
Working On The Building - Judy - Anything That Part Of You - Night Rider - How's The World Treating You - First In Line - Steadfast, Loyal And True - You're A Heartbreaker - Known Only To Him - I Belive In The Man In The Sky - Joshua Fit The Battle - He Knows Just What I Need - Reconsider Baby - I Will Be Home Again