Songwriters Doc Pomus and Mort Shuman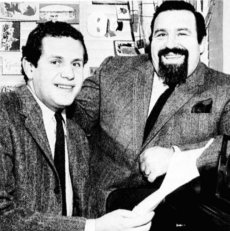 Doc Pomus was born Jerome Solon Felder on June 27, 1925 in Brooklyn, New York. He suffered from polio as a child, which left him to walk on crutches. After hearing blues singer Big Joe Turner, he became obsessed with the blues. He began his career while still a teenager, taking on the name Doc Pomus. He played saxophone and sang in Greenwich Village clubs. He recorded for a variety of labels but wasn't very successful. By the early 1950s he began to write. In 1955, he wrote "Boogie Woogie Country Girl" for his idol Big Joe Turner. It was his first success. Another hit he wrote was "Lonely Avenue" for Ray Charles. Another hits was "Young Blood," co-written with Lieber and Stoller and recorded by The Coasters.

Mort Shuman was born in Brooklyn, New York on November 12, 1936 to Jewish immigrant parents. He studied music at the New York Conservatory and , like Pomus, was devoted to R&B music. Doc Pomus completely gave up singing by 1957 and in 1958 teamed with Mort Shuman to write for the Aldon Music Publishing. Shuman had played piano on some of Doc Pomus's recordings. They set up offices in the famous Brill Building in New York. (Side note: The Brill Building at 1619 Broadway got it's name from the owners, the Brill Brothers, who once had a clothing store in a part of the building. They leased the rest of the building to companies in the music business. By 1962 there were 165 music business in the building and it was a Mecca for song writers.)

The partnership of Pomus and Shuman authored hundreds of songs, specializing in "blue-eyed soul." For the most part Doc Pomus wrote the lyrics and Mort Shuman wrote the music to their songs, but they sometimes worked on both. In 1959, they wrote "Tiger", recorded by Fabian. It reached #3 and as did "Teenager In Love" recorded by Dion and THe Belmonts. In 1960, they wrote the #1 song, "Save The Last Dance For Me" for the Drifters.

They began writing for Elvis in 1960. Elvis passed on the first song they submitted to him. It was called "Turn Me Loose." They later changed the song's arrangement and lyrics and it became a hit for Fabian. The next song they wrote for Elvis was "A Mess of Blues," which was released as the B-side of the single "It's Now or Never" in July 1960. They continued to write for Elvis over the next five years however, neither one of them ever met Elvis. Elvis did call Mort Shuman in the middle of the night of June 25, 1961. He was calling for advice when he was recording "(Marie's The Name of) His Latest Flame" because they couldn't quite get the piano line down as Mr. Shuman had written it.

The Elvis songs written Doc Pomus and Mort Shuman, together or separately, are: "A Mess of Blues," "Doin' The Best I Can," "Surrender," "Kiss Me Quick," "(Marie's The Name of) His Latest Flame," "Little Sister," "Night Rider," "Gonna Get Back Home Somehow," "I Feel That I've Known You Forever" (Doc Pomus with Alan Jeffreys), "Suspicion," "She's Not You" (Doc Pomus with Lieber and Stoller), "(It's A) Long Lonely Highway," "Viva Las Vegas," "I Need Somebody To Lean On," "Girl Happy" (Doc Pomus with Norman Meade), "What Every Woman Lives For," "Never Say Yes," "Double Trouble" and "You'll Think Of Me" (Mort Shuman alone).

In 1964 they moved to England and Shuman began working with other writers. In 1965, Pomus took a severe fall that resulted in his being confined to a wheelchair for the rest of his life. He and Shuman broke up their partnership and Pomus left the music business for the next ten years, then making his living as a professional gambler. He returned to music in the late 1970s, co-writing with Dr. John and with B.B. King. He helped to found the the Rhythm and Blues Foundation and, shortly before his death, he was the first white person to be awarded that foundations' Pioneer Award. He died of lung cancer in New York, on March 14, 1991 at the age of sixty-four. In 1995, a tribute album was released entitled "Till The Night Is Gone," which featured fourteen of his songs, many written with Mort Shuman, performed by artists such as Bob Dylan, Roseanne Cash, Los Lobos, Shawn Colvin, Dion and Aaron Neville among others. In 1992, Doc Pomus was inducted into Rock and Roll Hall of Fame. He has also been inducted into the Songwriting Hall of Fame, the Blues Hall of Fame and the New York Music Hall of Fame.

After their breakup, Mort Shuman continued to write for such acts as The Hollies, Freddy and The Dreamers, and Cilla Black. He then moved to Paris where he performed and began his own recording career. In 1968, Shuman translated the lyrics of French composer Jacques Brel and later he wrote, produced and starred in the stage production "Jacques Brel Is Alive and Well and Living In Paris," which ran for seven years. In 1986, Mort Shuman moved to London and wrote British musical productions. In 1991, he died of liver cancer at the age of fifty-four.

Today, many of the songs of Doc Pomus and Mort Shuman are considered among the great classics of both rock 'n' roll and rhythm and blues.