Notes:
This is a special collector edition housed in a 7" (17,5 cm) triple-fold-out cover. Includes a 12 pages booklet with listings about the takes, facts and photos.
On back cover (CD 2, track 3) is printed "I Slipped, I Stumbled, I Fell (take 9)", but it is take 10.
On CD print are some mistakes in the song titles: "The Millonth And Last Time" and "Forgive Me Never" is printed there.
The front of the booklet shows the Italian LP cover "Elvis '65"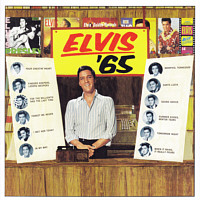 From the liner notes:
About this release - As producers, we certainly have enjoyed creating this expanded version of the 1965 album Elvis For Everyone.

Disc I comprises the original album as issued in the U.S. The original LP master has many audio limitations so we have decided to use RCA's most recently upgraded masters. This also applies to the added bonus tracks featured on disc I.
When considering what tracks to add to the album, the overdubbed version of 'Wild In The Country' that featured maracas and added bass in one channel became an obvious choice. This unique version surfaced on the now extremely rare stereo RCA U.K. LP version (SF 7752) released in December 1975 by a twist of fate. In September that same year, the U.K. division had already issued its own unique compilation called Flaming Star And Summer Kisses (RD 7723). For obvious reasons, the song 'Summer Kisses, Winter Tears' needed to be substituted and 'Wild In The Country' was chosen, Its pure conjecture now, but it may well have been an A&R request for both stereo and mono masters that by chance revealed this mysterious version. To date, no documentary evidence has provided any explanation and the tape does not exist in RCA's U.S. vault.

If we look at what else RCA U.S. could have chosen for the album, it's advantageous to look at what was left unreleased in the vault or as Colonel Parker used to say, "in the can?' In 1965 RCA didn't have the 'Harbor Lights' tape fled, as it actually occupied a place in Steve Sholes office desk. It also hadn't received the wonderful 'Danny' from Paramount yet, and unfortunately the excellent 'Ain't That Loving You Baby' had already been used the year before on a single.
However, RCA did have at its disposal the only unreleased Sun recording it was aware of and a bold creative decision was made to overdub 'Tomorrow Night' on March 18, 1965 with guitar, bass, harmonica and backing vocals. Overseen sympathetically by Chet Atkins, the session was a resounding success and it certainly provided a much-needed highlight for the compilation. RCA also had for consideration 'When It Rains, It Really Pours', 'Your Cheatin' Heart' and 'Tell Me Why'. A&R must have believed in the sales potential of the latter cut, saving it for single release later that year, and so only the first two made it to the album. The vault also revealed a number of unreleased movie soundtrack recordings from Flaming Star, Wild In The Country, Follow That Dream, Girls! Girls! Girls! and Viva Las Vegas. RCA also saw value in using tracks that hadn't been on an LP format before, although it seems strange that 'Summer Kisses, Winter Tears' was chosen, in preference to the up-tempo 'Flaming Star'. However, the exclusion of the infinitely sub-standard 'Britches' and 'A Cane and a High Starched Collar' is easy to understand.

As with Flaming Star, there was no soundtrack LP from Wild in the Country and the very short intimate recordings of 'In My Way',' Forget Me Never' and 'Lonely Man' didn't fit with any planned record releases. The first two ended up on Elvis For Everyone, whereas the acoustic version of 'Lonely Man' would have been considered an outtake not for general record release. (It would be some years before outtakes appeared on regular releases.) The inclusion of the official orchestrated record master of 'Lonely Man' has validity on this compilation as it is the original b-side of "Wild In The Country."

'Sound Advice' is a leftover from Follow That Dream, and RCA could just as well have chosen the two leftovers it had from Girls! Girls! Girls!, 'Mama', and 'Plantation Rock'. Likewise RCA had many tracks from the soundtrack of Vivo Las Vegas to choose from. When the decision was made to release only a single and a 4-track EP for retail, six additional masters were sent to the vault. The non-inclusion of 'The Lady Loves Me' and 'You're The Boss', seems to stem from a decision to not release recordings featuring Elvis singing with another star, in this case Ann-Margret. Why 'Santa Lucia' was chosen over 'Night Life, 'Do The Vega' and the medley of 'Yellow Rose Of Texas/The Eyes Of Texas' comes with no explanation, although its 'classic' song status may have swayed the decision. Additionally, Elvis singing in Italian, would offer a commercial angle to the album in international territories.

The rest of the album was made up of leftover Nashville masters recorded between October 15, 1961 and January 12, 1964. RCA had already used one of these masters earlier in the year with the single release of 'You'll Be Gone', and 'Crying In The Chapel' from October 1960 had also already been used earlier in the year. 'For The Millionth and The Last Time' and 'I Met Her Today' flunked the A&R audition for the 1962 Pot Lick album as well as potential bonus cut choices for Fun In Acapulco and Kissin' Cousins but both worked very well on this album. The remaining unreleased studio cuts are taken from the aborted 1963 Nashville album. Several had already been released on single format and as bonus songs on soundtrack albums. 'Finders Keepers, Losers Weepers', and 'Memphis, Tennessee' were selected for Elvis For Everyone over the options of 'Blue River, 'Western Union' and 'What Now, What Next, Where To'. Ultimately, an executive at RCA had the enviable, or possibly difficult task of making Elvis For Everyone a commercially successful release for RCA. While it may not have surpassed previous sales expectations, it certainly provided fans with unreleased material that was uplifting in amongst all the trappings of Elvis' movie soundtracks.

Disc 2 is a selection of previously unreleased outtakes from between 1960 -1963. Most of Elvis' outtakes from this period have been featured in the FTD 'Classic Album' series, but these previously unreleased omissions are included here for the first time for Elvis collectors around the world.