Note:
Between "My Boy" and "T-R-O-U-B-L-E" (first seconds are missing) is a break. Probably the cassette recorder was stopped.

Press note (sic):

The MxF label will release soon its new special product called "Atlanta 1975'' featuring the unreleased Show from Atlanta April 30, 1975 plus a bonus DVD with unreleased footage from the same tour.
After the successful Las Vegas Hilton comeback, in spite a little bit overweight but with strong spirit, Elvis is ready to face his first tour of the 1975.. The rock attitude is back the performance is relaxed and superb like many critics noted…, still at the top if his ability he deliveries the classic one hour show as usually, but very intense updating the show with more contemporary repertoire, tossing away mostly of the oldies..There is a freshness that cannot be denied, Elvis was very energetic on stage, bringing back his best seventy rocker like Burning Love and his first That's All Right Mama…and naturally his karate exercises…introducing his latest rocker single TROUBLE.. He sang with rough power and sensitivity at the same time, delivering a solid short show, with songs like Let Be There recent hit from Olivia Newton-John" and the classic "My Boy" sang terrifically. Elvis finally started to perform again his rocking repertoire appearing to be more focused on the music.

The sound is very good for an ambient recording, considering that this kind of recording is coming from a big hall no the intimate Las Vegas showroom… We have on our hands the original mono tape of extremely good quality enabling us to carry out a simple re-mastering work, concentrating on the reduction of noise trying to achieve a more clear sound balancing the channel and put at the right speed the tape. The result a pretty dynamic tape with a great definition of the background music and for sure you can live the atmosphere of a Elvis' concert in the seventy.

About the DVD in spite we are talking about amateur footage, we are proud of the work done..after careful remastering work in the matter to delivery the best video to date, including matching audio from the original concert in the way to get a perfect sync between audio and image with speed correction of the original footage we can say that watching this DVD you can have the perfect idea and overall, you can live the Elvis' show in April 1975 tour…

This is the first very special Product for this label, this new CD&DVD combo will be housed in a deluxe LONG DIGIPACK, containing a 12 pages of booklet with focus and details on the four shows included in the live footage with a collection of live photographs newspapers clips and memorabilia plus a high quality glossy 135 gram paper poster of 50x25 cm size.

In matter to have a special collector item, the 500 copies will be presented with five different sleeves VARIATION, the same for the poster too. All the copies will come hand numbered and individually sealed and Please remember!! This is a LIMITED HAND NUMBERED 500 COPIES

First 100 copies (variation 1 of sleeve) deluxe edition will HAVE EXCLUSIVE CONTENTS.

COLLECT THEM ALL!!!!!!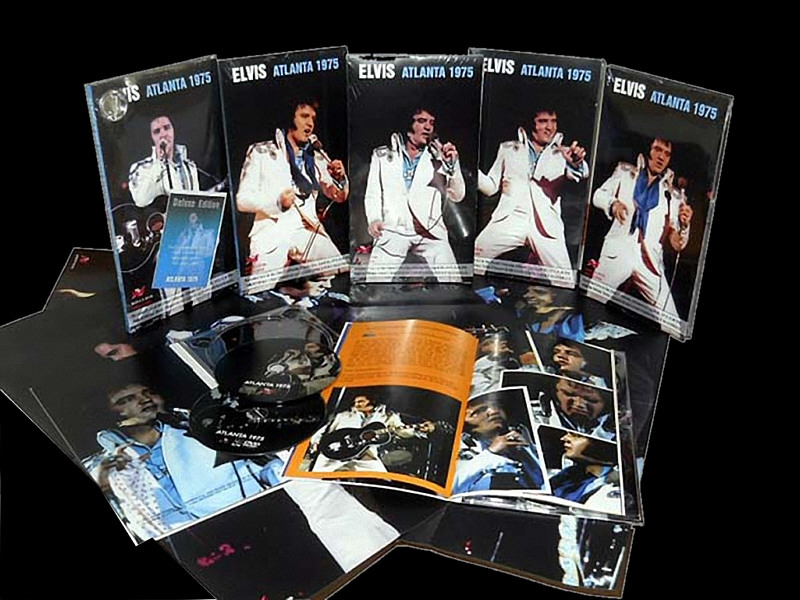 Additional note: The "deluxe edition" is hand numbered # of 100. It includes a small button (3xm) , a photo, a poster (50x27cm) and copies of newspaper articles. Also is included a hand numbered "certificate".

| | |
| --- | --- |
| | |
| Certificate | Button |
DVD:


the DVD contains footage from Jacksonville / Florida, April 25, 1975 and Atlanta / Georgia, June 1 and June 2, 1975.
Concert:
Elvis and Atlanta was something special. Elvis loved Atlanta and Atlanta loved Elvis. In his "second home" as he once called this city the crowd went nuts as soon as he hit the stage. A move with his little finger could cause riots. In addition Elvis got standing ovations for songs like How Great Thou Art or the anthem An American Trilogy. I like all Atlanta concerts and this one is no exception. A very appealing set list, a great atmosphere and a committed superstar make this show an experience. Pity, the sound is not the best. (Ciscoking)