Notes:
This is a limited edition CD ("worldwide 12.001 items only") with a numbered front cover. CD comes in a cardbox. How many CDs are really pressed is unknown, definitely not 12.001!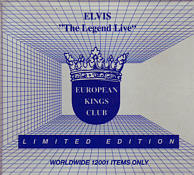 This is a very 'special' scheme, offered to members of the 'European King's Club'. Each participant could buy so-called 'Letters' valued at 1200 Swiss Francs / German Deutsche Mark (~600 Euro) with the expectation of receiving 12 monthly payments of each 200 Swiss francs. If you joined the 'Club' you could get some of these 'numbered limited edition' CDs.
-----------------------------------------
Announcement:
"Money makes the world go round"

The ancient Romans, Greeks and Chinese already knew that. And what is there to be said against making as much money as possible in the simplest possible way. And EUROPEAN KINGS CLUB was set up especially with this goal in mind. Therefore, join the EUROPEAN KINGS CLUB as a member.

By purchasing the "Letter of EUROPEAN KINGS CLUB", you may double your investment within a year. You needn't keep track of stock prices or observe the gold market. The EUROPEAN KINGS CLUB will handle everything for you.

Controlled and supervised by the Club, the funds will be earned for you by experts of international investment companies and banks and paid to you via EUROPEAN KINGS CLUB.
For example: The price for a "Letter of EUROPEAN KINGS CLUB" will be Sfr/DM 1.200,— plus Sfr/DM 200,— administrative fee. In return, you will receive monthly payments of Sfr/DM 200,— each over the period of one year, i.e. in total Sfr./DM 2.400,—. This means for you that the capital you invested will double in only one year !

Each member may buy as many "Letters of EUROPEAN KINGS CLUB' as he wants. You will decide on your additional monthly income.

The Club contribution amounts Sfr/DM 100,— per year. Membership expires, if the Club contribution has not been paid in the following year. Only Club members may vote in the annual meeting and may be elected.

What is the "EUROPEAN KINGS CLUB"?
A union of experts with the aim of making the highest possible earnings for its members. The EUROPEAN KINGS CLUB itself may not make any profits. All surpluses have to be distributed among the members.

All statements shall be subject to data protection.
-----------------------------------------

Unfortunately the "The European Kings Club" was a fraudulent pyramid system, which collapsed in the autumn of 1994, and the members lost around 1 milliard Euros.
So the lure was that you could get some CDs for a net investment of 600 Euro....!