Tracks 1 - 12 are from August 19 - 1975 , Midnight show !
Tracks 13 - 22 are from August 20 - 1975 , Dinner show !
Elvis had a request box placed in the hobby of the hotel for fan song requests. During these performances he dipped into the box and sang whatever song came out. This is the only time he used a request box for a performance.
Elvis cancelled the remaining Las Vegas shows after his August 20 show at the recommendation of his physician due to exhaustion !
The "Bathroom Speech" is a funny story Elvis tells about going to the bathroom.
"Young And Beautiful" is an audience request !
"Blue Suede Shoes" replaced the standard "I Got A Woman / Amen" medley , which is highly unusual !
"My Boy" and T-R-O-U-B-L-E are excellent versions !
"Until It's Time For You To Go" was a rare setlist inclusion !

While the material on this release is audience recorded , it is an excellent tape and in fact better than some soundboard releases floating around. This is a great CD with many standout performances , don't let it's non-soundboard source dissuade you from hunting it down.

CD comes with a gatefold inlay with "Bilko Salutes His UK Friends"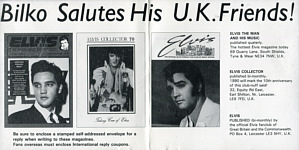 Matrix number: CD - 1594 T204-7735 <01>