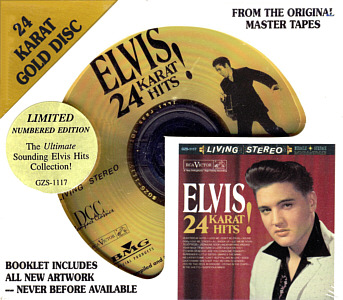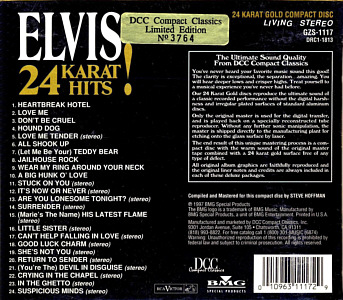 Cardboard sleeve
| | | | | |
| --- | --- | --- | --- | --- |
| Release: 1997 | BMG GZS-117 / DRC1-1813 | Gold CD | USA | 65 € |
| Release: 2012 | Sony Music CAPP 3040 SA | SACD | USA | 35 € |

Jewel Case in a cardboard sleeve. Limited edition sticker on back of the cardbooard.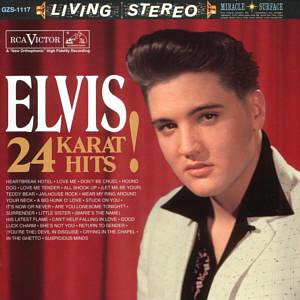 Pressed by Sanyo / Verbatim CD Company, USA.
DCC Compact Classics 24 kt. Gold Disc under license from BMG Direct Marketing. Limited Edition.
RCA Victor logo with Nipper, DCC Comapct Classics and BMG Special Products signs on back.
℗ & © 1997 BMG Special Products
Manufactured and marketed by DCC Compact Classics, Inc., California
UPC/EAN: 0010963111729

Notes on the back:
The Ultimate Sound Quality - From DCC Compact Classics
You've never heard your favorite music sound this good!
The clarity is exceptional, the separation...amazing. You will hear deeper lows and crisper highs. Treat yourself to a musical experience you've never had before.
Our 24 Karat Gold discs reproduce the ultimate sound of a classic recorded performance without the digital harshness and irregular plated surfaces of standard aluminum discs.
Only the original master is used for the digital transfer, and is played back an a specially reconstructed tube reproducer.
Without any further sonic manipulation, the master is shipped directly to the manufacturing plant for etehing onto the glass surface by laser.
The end result of this unique mastering process is a compact disc with the warm sound of the original master tape combined with a 24 karat gold surface free of any type of defect.
All original album graphics are faithfully reproduced and the original liner notes and credits are always included in each of these deluxe packages.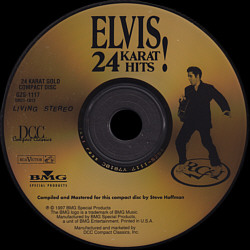 Matrix number: $GZS-1117 Y9608C IFPI L532


01
02
03
04
05
06
07
08
09
10
11
12
13
14
15
16
17
18
19
20
21
22
23
24
Heartbreak Hotel
Love Me
Don't Be Cruel
Hound Dog
Love Me Tender (stereo)
All Shook Up (with the count in)
(Let Me Be Your) Teddy Bear
Jailhouse Rock
Wear My Ring Around Your Neck
A Big Hunk O' love (alternate take)
Stuck On You (stereo)
It's Now Or Never (stereo)
Are You Lonesome Tonight? (stereo)
Surrender (stereo)
(Marie's The Name) His Latest Flame (stereo)
Little Sister (stereo)
Can't Help Falling In Love (stereo)
Good Luck Charm (stereo)
She's Not You (stereo)
Return To Sender (stereo)
(You're The) Devil In Disguise (stereo)
Crying In The Chapel (stereo)
In The Ghetto (stereo)
Suspicious Mind (stereo)
2:11
2:43
2:02
2:14
2:41
2:00
1:48
2:30
2:16
2:12
2:21
3:15
3:06
1:51
2:10
2:34
2:59
2:26
2:08
2:09
2:23
2:23
2:45
4:29