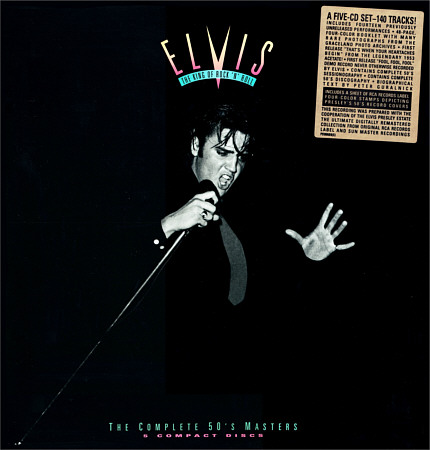 LARGE (32cm x 32Ccm) CARDBOARD BOX FOR THE 5 CDs



| | | | |
| --- | --- | --- | --- |
| Release: 1992 | BMG PD 90689 | Germany | |
The German 1992 issue came with two boxes:
The 1st box on June 1992.
The 2nd box on August 1992.

The June 1992 edition came with a 50 pages booklet - not a 48 pages as stated on the sticker. The stamps are printed in the booklet on page 49 (page 50 is blank) by error.
The August 1992 edition came with the 48 pages booklet as stated on the sticker. The stamp sheet came as an addition to the booklet.
Shown is here the first issue.

The same booklet is available with the vinyl box.
Each disc is housed in its own jewel case with a gatefold insert with two pictures, old RCA and BMG Music logos.

One picture, old RCA and BMG Music logos on back insert.

Made by Sonopress, Germany
UPC/EAN: 0035629068926
| | |
| --- | --- |
| JUNE 1992 - THE FIRST RELEASE | AUGUST 1992 - THE SECOND RELEASE |
Made by Sonopress, Germany
UPC/EAN: 0035629068926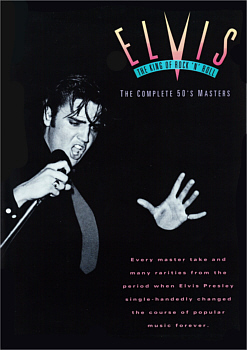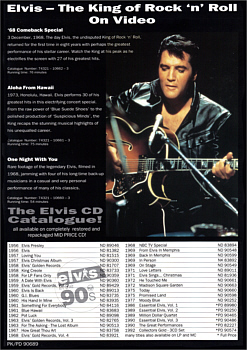 Came with a promo sheet with two pictures and advertises for three videos and thirty-seven CD's


ELVIS THE KING OF ROCK 'N' ROLL - THE COMPLETE 50's MASTERS 1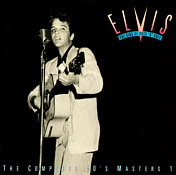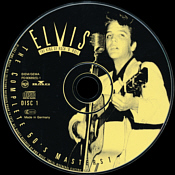 Matrix number: SONOPRESS

G-1359/PD 90689-1 A 3
01
02
03
04
05
06
07
08
09
10
11
12
13
14
15
16
17
18
19
20
21
22
23
24
25
26
27
28
29
30
My Happiness
That's All Right
I Love You Because
Harbor Lights
Blue Moon Of Kentucky
Blue Moon
Tomorrow Night
I'll Never Let You Go (Little Darlin')
I Don't Care If The Sun Don't Shine
Just Because
Good Rockin' Tonight
Milk Cow Blues Boogie
You're A Heartbreaker
Baby, Let's Play House
I'm Left, You're Right, She's Gone
Mystery Train
I Forgot To Remember To Forget
Trying To Get To You
When It Rains, It Really Pours
I Got A Woman
Heartbreak Hotel
Money Honey
I'm Counting On You
I Was The One
Blue Suede Shoes
My Baby Left Me
One-Sided Love Affair
So Glad You're Mine
I'm Gonna Sit Right Down And Cry
Tutti Frutti
02:33
01:57
02:44
02:36
02:03
02:41
03:00
02:25
02:29
02:34
02:13
02:39
02:12
02:17
02:38
02:26
02:29
02:32
02:03
02:25
02:09
02:36
02:25
02:35
02:00
02:13
02:11
02:22
02:03
01:59


ELVIS THE KING OF ROCK 'N' ROLL - THE COMPLETE 50's MASTERS 2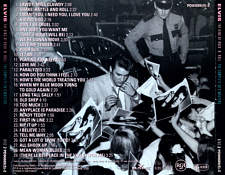 Matrix number: SONOPRESSG-1360/PD 90689-2 A 3

01
02
03
04
05
06
07
08
09
10
11
12
13
14
15
16
17
18
19
20
21
22
23
24
25
26
27
28
29
Lawdy, Miss Clawdy
Shake, Rattle And Roll / Flip, Flop And Fly
I Want You, I Need You, I Love You
Hound Dog
Don't Be Cruel
Any Way You Want Me (That's How I Will Be)
We're Gonna Move
Love Me Tender
Poor Boy
Let Me
Playing For Keeps
Love Me
Paralyzed
How Do You Think I Feel
How's The World Treating You
When My Blue Moon Turns To Gold Again
Long Tall Sally
Old Shep
Too Much
Anyplace Is Paradise
Ready Teddy
First In Line
Rip It Up
I Believe
Tell Me Why
Got A Lot O' Livin' To Do!
All Shook Up
Mean Woman Blues
(There 'll Be) Peace In The Valley (For Me)
02:10
02:29
02:41
02:16
02:03
02:15
02:31
02:42
02:15
02:10
02:51
02:45
02:25
02:12
02:25
02:22
01:52
04:11
02:32
02:26
01:57
03:24
01:55
02:05
02:07
02:33
01:58
02:17
03:21



ELVIS THE KING OF ROCK 'N' ROLL - THE COMPLETE 50's MASTERS 3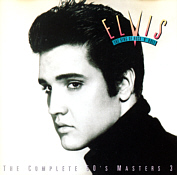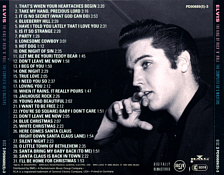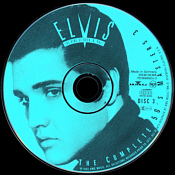 Matrix number: SONOPRESS G-1361/PD 90689-3 A 2

01
02
03
04
05
06
07
08
09
10
11
12
13
14
15
16
17
18
19
20
21
22
23
24
25
26
27
28
29
30
31
That's When Your Heartaches Begin
Take My Hand, Precious Lord
It Is No Secret (What God Can Do)
Blueberry Hill
Have I Told You Lately That I Love You
Is It So Strange
Party
Lonesome Cowboy
Hot Dog
One Night Of Sin
(Let Me Be Your) Teddy Bear
Don't Leave Me Now
I Beg Of You
One Night
True Love
I Need You So
Loving You
When It Rains, It Really Pours
Jailhouse Rock
Young And Beautiful
I Want To Be Free
(You're So Square) Baby I Don't Care
Don't Leave Me Now
Blue Christmas
White Christmas
Here Comes Santa Claus (Right Down Santa Lane)
Silent Night
O Little Town Of Bethlehem
Santa Bring My Baby Back (To Me)
Santa Claus Is Back In Town
I'll Be Home For Christmas
03:23
03:18
03:55
02:40
02:33
02:30
01:28
03:02
01:13
02:37
01:47
01:59
01:52
02:31
02:06
02:38
02:13
01:49
02:28
02:03
02:13
01:53
02:06
02:08
02:24
01:55
02:24
02:36
01:53
02:24
01:53



ELVIS THE KING OF ROCK 'N' ROLL - THE COMPLETE 50's MASTERS 4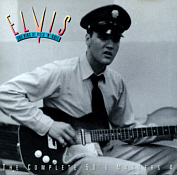 Matrix number: SONOPRESS G-1362 / PD 90689-4 A 3

01
02
03
04
05
06
07
08
09
10
11
12
13
14
15
16
17
18
19
20
21
22
23
24
Treat Me Nice
My Wish Came True
Don't
Danny
Hard Headed Woman
Trouble
New Orleans
Crawfish
Dixieland Rock
Lover Doll
Don't Ask Me Why
As Long As I Have You
King Creole
Young Dreams
Steadfast, Loyal And True
Doncha' Think It's Time
Your Cheatin' Heart
Wear My Ring Around Your Neck
I Need Your Love Tonight
A Big Hunk O' Love
Ain't That Loving You Baby
(Now And Then There's) A Fool Such As I
I Got Stung
Interview with Elvis (September 22, 1958)
02:13
02:35
02:49
01:53
01:54
02:18
02:00
01:50
01:48
02:10
02:06
01:51
02:09
02:25
01:16
01:58
02:25
02:15
02:05
02:14
02:24
02:38
01:54
13:35



ELVIS THE KING OF ROCK 'N' ROLL - THE COMPLETE 50's MASTERS 5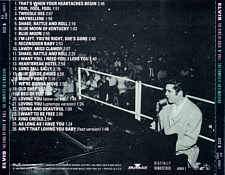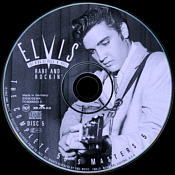 Matrix number: SONOPRESS

G-1363 / PD 90689-5 A 2
01
02
03
04
05
06
07
08
09
10
11
12
13
14
15
16
17
18
19
20
21
22
23
24
25
26
That's When Your Heartaches Begin (acetate, 1953)
Fool, Fool, Fool (acetate of demo)
Tweedle Dee (live, Gladewater/Texas, December 18, 1954))
Maybellene (live, Shreveport/Louisianna, August 1955)
Shake, Rattle And Roll (acetate of demo)
Blue Moon Of Kentucky (alternate take)
Blue Moon (take 1)
I'm Left, You're Right, She's Gone (slow version, take 11)
Reconsider Baby (MDQ, recorded off mike)
Lawdy, Miss Clawdy (take 3)
Shake, Rattle And Roll (take 8, with extra verse)
I Want You, I Need You, I Love You (take 16)
Heartbreak Hotel (live, Las Vegas, May 6, 1956)
Long Tall Sally (live, Las Vegas, May 6, 1956)
Blue Suede Shoes ( (live, Las Vegas, May 6, 1956))
Money Honey (live, Las Vegas, May 6, 1956)
We're Gonna Move (take 4)
Old Shep (alternate master, take 5)
I Beg Of You (alternate master, take 12)
Loving You (slow version, take 12)
Loving You (uptempo version, take 13)
Young And Beautiful (take 3)
I Want To Be Free (take 10)
King Creole (take 3)
As Long As I Have You (take 8)
Ain't That Loving You Baby (fast version, take 11)
02:49
01:53
02:07
01:59
02:18
01:05
02:57
02:42
02:55
02:09
02:27
02:41
02:54
02:15
04:59
03:18
02:32
03:54
01:52
01:50
01:26
01:11
02:07
02:06
01:26
01:48