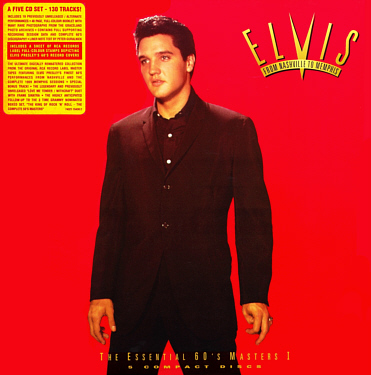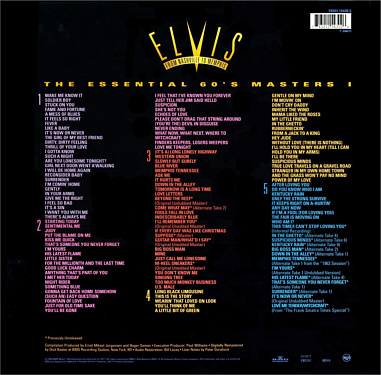 LARGE (32cm x 32cm) CARDBOARD BOX FOR THE 5 CDs



| | | | |
| --- | --- | --- | --- |
| Release: 2003 | BMG 74321 15430 2 | Germany | 50 € |
The 2003 reissue came with the same inlay as the 1993 issue.
Made by Sonopress, Germany.

A stamp sheet with 36 Elvis Presley 60's Record covers.

A promo sheet with five picture and advertises for three videos and Elvis The King Of Rock 'N' Roll-CDs.

A 48 pages booklet with two-hundred and seventy pictures.
| | |
| --- | --- |
| STICKER ON FRONT OF BOX | THE ADDITIONAL STAMP SHEET WITH 36 ELVIS PRESLEY 60's RECORD COVERS |
Each disc is housed in its own jewel case with a gatefold insert with two pictures, old RCA and BMG Music logos.

One picture, old RCA and BMG Music logos on back insert.
UPC/EAN: 0743211543026
ELVIS - FROM NASHVILLE TO MEMPHIS - THE ESSENTIAL 60's MASTERS - CD l

Matrix number:

H-1892/21154302-1 D IFPI LB 46 IFPI 0736
01
02
03
04
05
06
07
08
09
10
11
12
13
14
15
16
17
18
19
20
21
22
23
24
25
26
27
Make Me Know It
Soldier Boy
Stuck On You
Fame And Fortune
A Mess Of Blues
It Feels So Right
Fever
Like A Baby
It's Now Or Never
The Girl Of My Best Friend
Dirty, Dirty Feeling
Thrill Of Your Love
I Gotta Know
Such A Night
Are You Lonesome Tonight?
Girl Next Door Went A'Walking
I Will Be Home Again
Reconsider Baby
Surrender
I'm Comin' Home
Gently
In Your Arms
Give Me The Right
I Feel So Bad
It's A Sin
I Want You With Me
There's Always Me
02:01
03:06
02:20
02:31
02:41
02:10
03:32
02:39
03:16
02:22
01:34
03:01
02:16
03:00
03:07
02:13
02:34
03:41
01:52
02:22
02:17
01:52
02:34
02:54
02:41
02:14
02:16

ELVIS - FROM NASHVILLE TO MEMPHIS - THE ESSENTIAL 60's MASTERS - CD 2
Matrix number: SONOPRESS H-1893/21154302-2 B IFPI L024 IFPI 0736
01
02
03
04
05
06
07
08
09
10
11
12
13
14
15
16
17
18
19
20
21
22
23
24
25
26
27
28
29
30
31
32
Starting Today
Sentimental Me
Judy
Put The Blame On Me
Kiss Me Quick
That's Someone You Never Forget
I'm Yours
(Marie's The Name) His Latest Flame
Little Sister
For The Millionth And The Last Time
Good Luck Charm
Anything That's Part Of You
I Met Her Today
Night Rider
Something Blue
Gonna Get Back Home Somehow
(Such An) Easy Question
Fountain Of Love
Just For Old Time Sake
You'll Be Gone
I Feel That I've Known You Forever
Just Tell Her Jim Said Hello
Suspicion
She's Not You
Echoes Of Love
Please Don't Drag That String Around
(You're The) Devil In Disguise
Never Ending
What Now, What Next, Where To
Witchcraft
Finders Keepers, Losers Weepers
Love Me Tonight
02:06
02:32
02:12
01:58
02:48
02:49
02:21
02:08
02:32
02:07
02:25
02:06
02:43
02:09
02:59
02:29
02:20
02:14
02:09
02:24
01:41
01:53
02:35
02:10
02:39
01:55
02:22
01:59
01:57
02:19
01:48
02:00

ELVIS - FROM NASHVILLE TO MEMPHIS - THE ESSENTIAL 60's MASTERS - CD 3
Matrix number: SONOPRESS H-1894/21154302-3 D IFPI L022 IFPI 0736
01
02
03
04
05
06
07
08
09
10
11
12
13
14
15
16
17
18
19
20
21
22
23
24
25
26
(It's A) Long Lonely Highway
Western Union
Slowley But Surely
Blue River
Memphis Tennessee
Ask Me
It Hurts Me
Down In The Alley
Tomorrow Is A Long Time
Love Letters
Beyond The Reef
Come What May (take 7)
Fools Fall In Love
Indescribably Blue
I'll Remember You (unedited master)
If Every Day Was Christmas
Suppose (Master)
Guitar Man / What I'd Say (unedited master)
Big Boss Man
Mine
Just Call Me Lonesome
Hi-Heel Sneakers (unedited master)
You Don't Know Me
Singing Tree
Too Much Monkey Business
U.S. Male
02:23
02:11
02:14
01:33
02:10
02:08
02:29
02:49
05:22
02:51
03:05
01:59
02:06
02:48
04:07
02:54
03:03
02:57
02:52
02:37
02:06
04:47
02:29
02:19
02:32
02:42

ELVIS - FROM NASHVILLE TO MEMPHIS - THE ESSENTIAL 60's MASTERS - CD 4
Matrix number:

H-1895/21154302-4 D IFPI L024 IFPI 0736
01
02
03
04
05
06
07
08
09
10
11
12
13
14
15
16
17
18
19
20
21
22
23
Long Black Limousine
This Is The Story
Wearin' That Loved On Look
You'll Think Of Me
A Little Bit Of Green
Gentle On My Mind
I'm Movin' On
Don't Cry Daddy
Inherit The Wind
Mama Liked The Roses
My Little Friend
In The Ghetto
Rubberneckin'
From A Jack To A King
Hey Jude
Without Love (There Is Nothing)
I'll Hold You In My Heart
I'll Be There
Suspicious Minds
True Love Travels On A Gravel Road
Stranger In My Own Home Town
And The Grass Won't Pay No Mind
Power Of My Love
03:40
02:29
02:46
04:00
03:22
03:23
02:53
02:48
02:57
02:48
02:45
02:47
02:11
02:25
04:31
02:54
04:33
02:23
04:30
02:39
04:24
03:10
02:34

ELVIS - FROM NASHVILLE TO MEMPHIS - THE ESSENTIAL 60's MASTERS - CD 5

Matrix number:

H-1896/21154302-5 A IFPI L022 IFPI 0736
01
02
03
04
05
06
07
08
09
10
11
12
13
14
15
16
17
18
19
20
21
22
After Loving You
Do You Know Who I Am
Kentucky Rain
Only The Strong Survive
It Keeps Right On A-Hurtin'
Any Day Now
If I'm A Fool (For Loving You)
The Fair's Moving On
Who Am I?
This Time / I Can't Stop Loving You (informal recording)
In The Ghetto (take 4)
Suspicious Minds (take 6)
Kentucky Rain (take 9)
Big Boss Man (take 2)
Down In The Alley (take 1)
Memphis Tennessee (take 1 from the "1963 Session")
I'm Yours (take 1)
(Marie's The Name) His Latest Flame (take 4)
That's Someone You Never Forget (take 1)
Surrender (take 1)
It's Now Or Never (undubbed master)
Love Me Tender / Witchcraft (from "The Frank Sinatra Timex Special", 1960)
03:08
02:49
03:15
02:42
02:38
03:00
02:44
03:09
03:19
03:50
02:48
03:16
03:11
03:39
03:12
02:14
02:19
02:01
02:40
01:52
03:16
01:41