| | | |
| --- | --- | --- |
| | | |
| FRONT OF THE LP SIZED BOX - FSK 6 LABEL ON THE GERMAN RELEASE | | LARGE FLAG ON BACK |
| | | | |
| --- | --- | --- | --- |
| Release: 2018 | Sony Legacy 19075884022 | EU | 100 € |
| Release: 2018 | Sony Legacy 19075884022 | USA | 100 € |


Sony Music release of "Elvis '68 Comeback Special" - 50th Anniversary 5 CD / 2 Blu-Ray, 80-page book housed in hardshell slipcase boxset.
This definitive box-set chronicles the pivotal NBC-TV special that helped Elvis Presley reclaim the title of 'The King Of Rock and Roll'.
The original special included spirited "sit-down" performances with Elvis and original band members Scotty Moore and DJ Fontana plus then-new material, including the classic "If I Can Dream".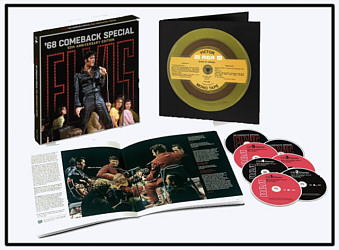 The 5CD / 2Blu-Ray box set offers all previously released audiovisual material from the special including rare outtakes, plus deluxe book with rare photos and a newly-compiled oral history of the making of the program.
Made by SONY DADC, Austria

Old RCA, ABG, Legacy, Blu-ray and ABC logos on back.
UPC/EAN: 0190758840222

The content was previousely released officially on "The Complete '68 Comeback Special" and "Elvis - Original Soundtrack Recording From His NBC-TV Special".

| | |
| --- | --- |
| | Sticker on wrapper |
Disc 1:
Matrix number: SONY DADC A0103093074-0107 17 A00 IFPI L557 IFPI945R
01
Trouble / Guitar Man
03:29
US-A82-08-00169
02
Medley
14:45
US-A82-08-00170
Lawdy, Miss Clawdy
Baby, What You Want Me To Do
Heartbreak Hotel
Hound Dog
All Shook Up
Can't Help Falling In Love
Jailhouse Rock
ove Me Tender
03
Gospel Medly
07:35
US-A82-08-00171
Where Could I Go But To The Lord
Up Above My Head
Saved
04
Blue Christmas / One Night
05:34
US-A82-08-00172
05
Memories
03:20
US-A82-08-00173
06
Medley
06:44
US-A82-08-00174
Nothingville
Big Boss Man
Guitar Man
Little Egypt
Trouble
Guitar Man
07
If I Can Dream
03:26
US-A82-08-00175
08
It Hurts Me (spliced take)
02:32
US-A82-08-00176
09
Let Yourself Go (spliced take)
02:38
US-A82-08-00177
10
Memories (stereo mix)
03:08
US-RC1-03-01077
11
If I Can Dream (stereo mix)
03:09
US-RC1-03-01076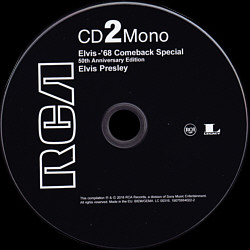 Disc 2:
Matrix number: SONY DADC A0103093075-0207 17 A00 IFPI L557 IFPI94X4


01
02
03
04
05
06
07
08
09
10
11
12
13
14
15



16
17
18
19
20
21
22
23
24
25
26
First 'Sit Down' Show (June 27, '68, 6PM)

That's All Right
Heartbreak Hotel
Love Me
Baby What You Want Me To Do
Blue Suede Shoes
Baby What You Want Me To Do
Lawdy Miss Clawdy
Are You Lonesome Tonight?
When My Blue Moon Turns To Gold Again
Blue Christmas
Trying To Get To You
One Night
Baby, What You Want Me To Do
One Night
Memories

First 'Stand Up' Show (June 29, '68, 6PM)

Heartbreak Hotel
Hound Dog
All Shook Up
Can't Help Falling In Love
Jailhouse Rock
Don't Be Cruel
Blue Suede Shoes
Love Me Tender
Trouble / Guitar Man
Baby What You Want Me To Do
If I Can Dream



04:08
02:54
03:12
05:44
02:20
04:02
03:02
02:51
00:38
02:36
02:50
03:57
05:11
02:37
03:26



01:28
00:46
01:58
02:18
01:59
01:42
02:33
04:17
03:01
03:05
03:16



US-A82-08-00179
US-A82-08-00180
US-A82-08-00181
US-A82-08-00182
US-A82-08-00183
US-A82-08-00184
US-A82-08-00185
US-A82-08-00186
US-A82-08-00187
US-A82-08-00188
US-A82-08-00189
US-A82-08-00190
US-A82-08-00191
US-A82-08-00192
US-A82-08-00193



US-A82-08-00194
US-A82-08-00195
US-A82-08-00196
US-A82-08-00197
US-A82-08-00198
US-A82-08-00199
US-A82-08-00200
US-A82-08-00201
US-A82-08-00202
US-A82-08-00203
US-A82-08-00204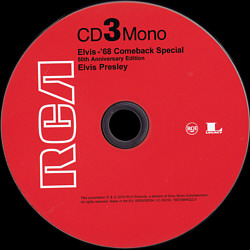 Disc 3:
Matrix number: SONY DADC A0103093076-0308 17 A00 IFPI L557 IFPI94T5


01
02
03
04
05
06
07
08
09
10
11
12
13
14
15
16



17
18
19
20
21
22
23
24
25
26
27
Second 'Sit Down' Show (June 27, '68, 8PM)

Heartbreak Hotel
Baby What You Want Me To Do
Introductions
That's All Right
Are You Lonesome Tonight?
Baby What You Want Me To Do
Blue Suede Shoes
One Night
Love Me
Trying To Get To You
Lawdy Miss Clawdy
Santa Claus Is Back In Town
Blue Christmas
Tiger Man
When My Blue Moon Turns To Gold Again
Memories

Second 'Stand Up' Show (June 29, '68, 8PM)

Heartbreak Hotel
Hound Dog
All Shook Up
Can't Help Falling In Love
Jailhouse Rock
Don't Be Cruel
Blue Suede Shoes
Love Me Tender
Trouble / Guitar Man
Trouble / Guitar Man
If I Can Dream



04:12
03:27
02:16
03:08
04:00
03:24
02:27
03:19
04:14
03:04
02:57
01:17
04:02
03:11
01:17
03:16



01:23
00:46
01:37
02:25
02:00
01:37
02:46
03:32
05:10
02:32
03:20



US-A82-08-00205
US-A82-08-00206
US-A82-08-00207
US-A82-08-00208
US-A82-08-00209
US-A82-08-00210
US-A82-08-00211
US-A82-08-00212
US-A82-08-00213
US-A82-08-00214
US-A82-08-00215
US-A82-08-00216
US-A82-08-00217
US-A82-08-00218
US-A82-08-00219
US-A82-08-00220



US-A82-08-00221
US-A82-08-00222
US-A82-08-00223
US-A82-08-00224
US-A82-08-00227
US-A82-08-00225
US-A82-08-00229
US-A82-08-00228
US-A82-08-00230
US-A82-08-00231
US-A82-08-00226

Disc 4:
Matrix number: SONY DADC A0103093077-0407 17 A00 IFPI L557 IFPI946T


01
02
03
04
05
06
07
08
09
10



11
12
13
14
15
16
17
18
19
20
21

First Rehearsal (June 24, '68)

I Got A Woman
Blue Moon / Young Love / Oh, Happy Day
When It Rains It Really Pours
Blue Christmas
Are You Lonesome Tonight? / That's My Desire
That's When Your Heartaches Begin
Peter Gun theme
Love Me
When My Blue Moon Turns To Gold Again
Blue Christmas / Santa Claus Is Back In Town

Second Rehearsal (June 25, '68)

Danny Boy
Baby What You Want Me To Do
Love Me
Tiger Man
Santa Claus Is Back In Town
Lawdy, Miss Clawdy
One Night
Blue Christmas
Baby What You Want Me To Do
When My Blue Moon Turns To Gold Again
Blue Moon Of Kentucky



02:48
02:21
02:55
03:28
03:12
00:49
01:37
01:45
01:52
03:04



01:35
03:22
02:38
03:14
02:44
02:18
02:19
02:49
01:26
01:14
01:44



US-A82-08-00232
US-A82-08-00250
US-A82-08-00234
US-A82-08-00237
US-A82-08-00251
US-A82-08-00238
US-A82-08-00239
US-A82-08-00240
US-A82-08-00241
US-A82-08-00252



US-A82-08-00242
US-A82-08-00243
US-A82-08-00244
US-A82-08-00233
US-A82-08-00245
US-A82-08-00235
US-A82-08-00246
US-A82-08-00247
US-A82-08-00248
US-A82-08-00236
US-A82-08-00249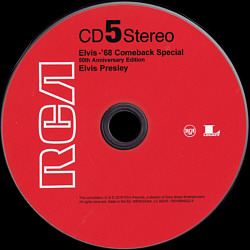 Disc 5:
Matrix number: SONY DADC A0103093078-0507 17 A00 IFPI L557 IFPI945B


01
02
03
04
05
06
07
08
09
10
11
12
The Wrecking Crew Sessions

Nothingville (Guitar Man's Evil #1) (takes 5 & 6)
Guitar Man (Guitar Man's Evil #1) (take 2)
Let Yourself Go, part 1 (Guitar Man's Evil #2) (take 5 & 7/M)
Let Yourself Go, part 2 (Guitar Man's Evil #3) (take 7/M)
Guitar Man (Escape #1, fast) (takes 1, 2 & 5)
Big Boss Man (Escape #3) (take 2)
It Hurts Me, part 1 (Escape #4) (take 5)
It Hurts Me, part 2 (After Karate #1) (take 3)
Guitar Man (After Karate #2) (take 1)
Little Egypt (After Karate #2) (take 6)
Trouble / Guitar Man (After Karate #3) (take 2)
Medley


02:16
01:02
02:37
01:35
02:49
01:39
01:57
01:08
00:53
01:33
03:02
05:23


US-RC1-18-03253
US-RC1-18-03254
US-RC1-18-03255
US-RC1-18-03256
US-RC1-18-03257
US-RC1-18-03258
US-RC1-18-03259
US-RC1-18-03260
US-RC1-18-03261
US-RC1-18-03262
US-RC1-18-03263
US-RC1-18-03264
Sometimes I Feel Like A Motherless Child /
Where Could I Go But To The Lord (Gospel #1) (tehearsal & take 1)
13
14
15
16
17
18
19
Up Above My Head / Saved (Gospel #2) (takes 4 & 7)
Saved (Gospel #3) (takes 2 & 4)
Trouble / Guitar Man (opening) (takes 6 & 7)
If I Can Dream (take 1)
If I Can Dream (takes 2, 3 & 4)
Memories (takes 3 & 4 / vocal overdub #1)
Let Yourself Go (closing instrumental)
03:38
04:34
05:31
03:13
04:24
03:46
01:04
US-RC1-18-03265
US-RC1-18-03266
US-RC1-18-03267
US-RC1-68-05603
US-RC1-18-03268
US-RC1-18-03269
US-RC1-18-03270
Blu-ray: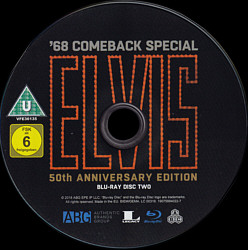 Blu-ray Disc 1:

Elvis NBC TV Special originally broadcast on December 3, 1968
Black Leather Sit-Down Show #1 - June 27, 1968
Black Leather Sit-Down Show #2 - June 27, 1968
Black Leather Stand-Up Show #1 - June 29, 1968
Black Leather Stand-Up Show #2 - June 29, 1968

Blu-ray Disc 2:

Trouble / Guitar Man TV Show opener - June 30, 1968 - (all takes and raw components)
If I Can Dream TV Show closer - June 30, 1968 (all takes)
Huh-Huh-Huh promo - June 30, 1968
Elvis Closing Credits without Credit Roll - June 30, 1968
If I Can Dream Special Music Video 2004 - June 30, 1968
Gospel Production Number (all takes and raw components)
Guitar Man Production Number (all takes and raw components)
Blu-ray Special Feature re-cut