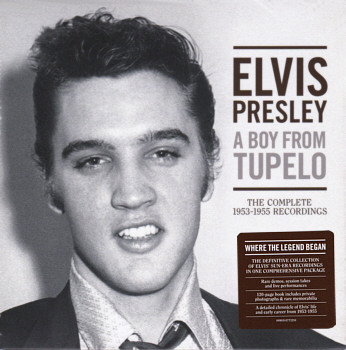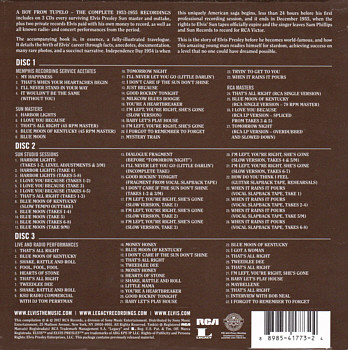 Cardoard sleeve
| | | | |
| --- | --- | --- | --- |
| Release: 2017 | Sony Legacy 88985417732 | USA | 30 € |

Made by Sony DADC, USA

3 CD set in a cardboard sleeve. Comes with a 120 pages booklet.


Fold-out innner cardboard

UPC/EAN: 0889854177324
Press note:
In August of 1953, an 18-year-old Elvis Presley walked into Sun Records to record some songs as a gift for his mother. Asked by receptionist Marion Keisker about what singers he sounded like, Elvis simply answered "I don't sound like nobody."
A Boy From Tupelo: The Complete 1953-1955 Recordings chronicles the rise of that singer who "don't sound like nobody." This 3CD set includes, for the first time in one collection, every known Sun Records master and outtake, those mythical Memphis Recording Service acetates (the first four songs Elvis recorded, with his own money), and every live performance and radio recording known to exist, including a newly-discovered recording. It's all brilliantly remastered from the best possible sources, and accompanied by a 120-page book chronicling this period in Elvis' life date-by-date with fascinating anecdotes, rare photos and memorabilia.


See also the deleted FTD release with the same title.
New on this 2017 release is track 32 on CD 3.
Disc 1
Matrix number: DIDX-1085131 1 A01 IFPI L329 IFPI 50BQ



01
02
03
04


05
06
07
08
09
10
11
12
13
14
15
16
17
18
19
20
21
22
23


24
25
26
27
Memphis Recording Service Acetates
My Happiness
That's When Your Heartaches Begin
I'll Never Stand In Your Way
It Wouldn't Be the Same Without You

Sun Masters
Harbor Lights
I Love You Because
That's All Right (45 RPM master)
Blue Moon Of Kentucky (45 RPM master)
Blue Moon
Tomorrow Night
I'll Never Let You Go (Little Darlin')
I Don't Care If the Sun Don't Shine
Just Because
Good Rockin' Tonight
Milkcow Blues Boogie
You're A Heartbreaker
I'm Left, You're Right, She's Gone (slow version)
Baby Let's Play House
I'm Left, You're Right, She's Gone
I Forgot to Remember to Forget
Mystery Train
Trying To Get To You
When It Rains, It Really Pours

RCA Masters
That's All Right (RCA single version)
Blue Moon of Kentucky (RCA single version, 78 RPM master)
I Love You Because (RCA LP version - spliced from takes 3 & 5)
Tomorrow Night (RCA LP version - overdubbed and slowed down)


02:33
02:52
02:04
02:05


02:38
02:42
01:59
02:07
02:44
03:01
02:27
02:32
02:34
02:15
02:39
02:12
02:43
02:19
02:38
02:31
02:30
02:35
02:06


01:58
02:05
02:45
02:53


US-RC1-53-08122
US-RC1-53-08123
US-RC1-54-05580
US-RC1-54-08119


US-RC1-54-06562
US-RC1-17-00521
US-RC1-54-05810
US-RC1-54-03925
US-RC1-54-08328
US-RC1-54-08071
US-RC1-54-01855
US-RC1-54-08067
US-RC1-54-01854
US-RC1-54-05582
US-RC1-54-08068
US-RC1-54-08069
US-A82-04-00077
US-RC1-55-08336
US-RC1-55-08070
US-RC1-55-03926
US-RC1-55-05812
US-RC1-55-01857
US-RC1-55-08337


US-RC1-17-00522
US-RC1-17-00523
US-RC1-54-08136
US-RC1-17-00527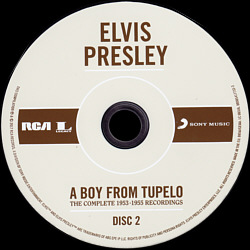 Disc 2
Matrix number: DIDX-1085132 1 A01 IFPI L328 IFPI 50BT

01
02
03
04
05
06
07
08
09
10
11
12
13
14
15
16
17
18
19
20
21
22
23
24
25
26

Sun Studio Sessions
Harbor Lights (takes 1-2, level adjustments & take 3)
Harbor Lights (take 4)
Harbor Lights (takes 5-8)
I Love You Because (takes 1 - 2)
I Love You Because (take 3)
I Love You Because (takes 4 -5)
That's All Right (takes 1 -3)
Blue Moon of Kentucky (slow tempo outtake)
Blue Moon (takes 1 -4)
Blue Moon (take 5)
Blue Moon (take 6 - 8)
Blue Moon (take 9, master)
Dialogue fragment before Tomorrow Night
I'll Never Let You Go (Little Darlin') (incomplete take)
Good Rockin' Tonight (fragment from vocal slapback tape)
I Don't Care If The Sun Don't Shine (takes 1, 2 & take 3, master)
I'm Left, You're Right, She's Gone (slow version, take 1)
I'm Left, You're Right, She's Gone (slow version, take 2)
I'm Left, You're Right, She's Gone (slow version, take 3)
I'm Left, You're Right, She's Gone (slow version, takes 4 & 5, master)
I'm Left, You're Right, She's Gone (slow version, takes 6 & 7)
How Do You Think I Feel (guitar slapback tape, rehearsals)
When It Rains, It Really Pours (vocal slapback tape, take 1)
When It Rains, It Really Pours (vocal slapback tape, takes 2 - 4)
When It Rains, It Really Pours (vocal slapback tape, take 5, master
When It Rains, It Really Pours (vocal slapback tape, takes 6 - 8)


03:26
02:37
04:13
03:52
03:36
04:08
02:17
01:08
03:36
03:24
03:53
02:44
00:10
00:49
00:09
03:47
03:00
02:51
02:51
02:50
04:15
04:30
01:36
04:26
02:02
03:20


US-RC1-17-00528
US-RC1-17-00529
US-RC1-17-00530
US-RC1-17-00531
US-RC1-17-00532
US-RC1-17-00533
US-RC1-17-00534
US-RC1-54-06563
US-RC1-17-00535
US-RC1-17-00536
US-RC1-17-00537
US-RC1-54-08328
US-RC1-17-00538
US-RC1-17-00539
US-RC1-17-00540
US-RC1-17-00541
US-RC1-17-00542
US-RC1-17-00543
US-RC1-17-00544
US-RC1-17-00545
US-RC1-17-00546
US-RC1-17-00547
US-RC1-17-00548
US-RC1-17-00549
US-RC1-17-00550
US-RC1-17-00551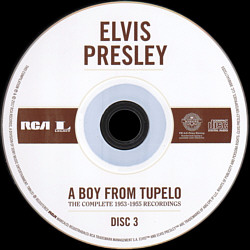 Disc 3
Matrix number: DIDX-1085133 2 A02 IFPI L328 IFPI 50BS

01
02
03
04
05
06
07
08
09
10
11
12
13
14
15
16
17
18
19
20
21
22
23
24
25
26
27
28
29
30
31
32

Live And Radio Performances
That's All Right
Blue Moon Of Kentucky
Shake, Rattle And Roll
Fool, Fool, Fool
Hearts Of Stone
That's All Right
Tweedle Dee
Shake, Rattle And Roll
KSIJ Radio Commercial with Tom Perryman
Money Honey
Blue Moon Of Kentucky
I Don't Care If The Sun Don't Shine
That's All Right
Tweedle Dee
Money Honey
Hearts Of Stone
Shake, Rattle And Roll
Little Mama
You're A Heartbreaker
Good Rockin' Tonight
Baby Let's Play House
Blue Moon Of Kentucky
I Got A Woman
That's All Right
Tweedle Dee
That's All Right
I'm Left, You're Right, She's Gone
Baby Let's Play House
Maybellene
That's All Right
Interview with Bob Neal
I Forgot To Remember To Forget

02:52
02:23
02:24
01:59
02:02
01:52
02:51
02:22
00:15
02:43
02:03
02:32
01:53
02:15
02:17
01:37
01:38
02:03
02:06
02:35
02:22
01:47
03:03
02:17
02:47
02:37
03:16
03:18
03:09
02:49
05:31
03:30

US-RC1-17-00552
US-RC1-17-00553
US-RC1-55-08339
US-RC1-55-08125
US-RC1-55-08129
US-RC1-17-00554
US-RC1-17-00651
US-RC1-17-00555
US-RC1-17-00556
US-RC1-55-08128
US-RC1-17-00557
US-RC1-55-08130
US-RC1-17-00558
US-RC1-17-00559
US-RC1-17-00560
US-RC1-17-00561
US-RC1-17-00562
US-RC1-17-00563
US-RC1-17-00564
US-RC1-17-00565
US-RC1-17-00566
US-RC1-17-00567
US-RC1-17-00568
US-RC1-17-00569
US-RC1-17-00570
US-RC1-17-00571
US-RC1-17-00572
US-RC1-17-00573
US-RC1-17-00574
US-RC1-17-00575
US-RC1-17-00576
US-RC1-17-00577
Tracks 1-2 recorded at Louisiana Hayride debut, Shreveport, Louisiana, October 16, 1954
Tracks 3-4 recorded at KDAV Radio, Lubbock, Texas, January 6, 1955.
Tracks 5-7 likely recorded at the Louisiana Hayride, Shreveport, Louisiana, January 15, 1955
Track 8 recorded at WJOI Radio, Florence, Alabama January 19, 1955
Track 9 recorded at KSIJ Radio, Gladewater, Texas, 1955
Tracks 10-13 likely recorded at the Louisiana Hayride, Shreveport, Louisiana, January 22, 1955
Tracks 14-19 likely recorded at the Louisiana Hayride, Shreveport, Louisiana, March 5, 1955
Tracks 20-24 likely recorded at the Eagles' Hall, Houston, Texas, March 19, 1955. Track 21 could be from a different performance the same week
Track 25 recorded at Gladewater High School, Gladewater, Texas, April 30, 1955
Track 26 recorded at the Jimmie Rodgers Memorial Festival, Meridian, Mississippi, May 26, 1955
Track 27 recorded at the Louisiana Hayride, Shreveport, Louisiana, July 2, 1955
Tracks 28-30 recorded at the Louisiana Hayride, Shreveport, Louisiana, August 20, 1955
Track 31 recorded at WMPS Radio, Memphis Tennessee, between August 29-31, 1955
Track 32 recorded at the Louisiana Hayride, Shreveport, Louisiana, October 29, 1955