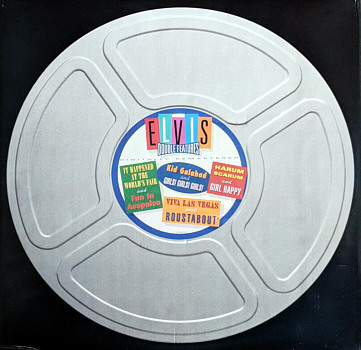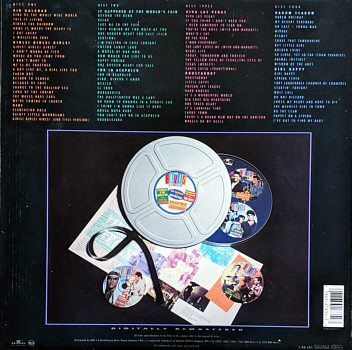 Cardboard box
| | | | |
| --- | --- | --- | --- |
| Release: 1993 | BMG 07863-61835-2 | USA | 70 € |
| Release: 1993 | BMG BVCZ-1004~7 | Japan | 120 € |

Comes in a Metal Film Can with booklet, four Elvis glossy photos, Elvis Pin and Certificate of Authenticity.
The release for the US market was limited to 15.000 pieces. The relase for the international market was limited to 18.200 pieces.
First sold at QVC TV-Shopping. QVC delivered the metal box without the cardboard box.
We can find different CD prints. One with Nipper on CD, one without Nipper.



Example for different CD print
The version without Nipper should be for distribution in Europe. At this time BMG had not the copyright for Nipper in Europe.
But in fact, we have also the Nipper version in the international release.
Tin film canister with 4 CDs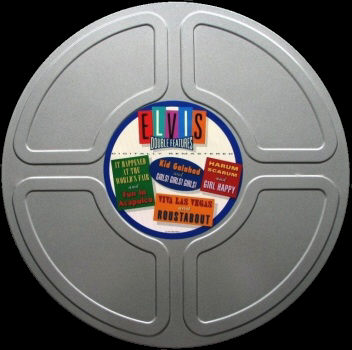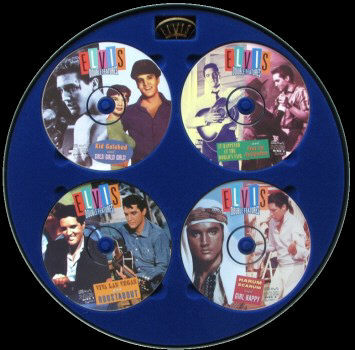 The matrix numbers for the US market and for the international market excluding America, are the same.
UPC/EAN: 0078636183527

Disc 1: Kid Galahad and Girls! Girls! Girls!
Matrix number: DISC MFG, INC. (H) W.O. 28350-1M 07863618352-A


01
02
03
04
05
06


07
08
09
10
11
12
13
14
15
16
17
18
19
20
21
22
23

Kid Galahad:
King Of The Whole Wide World
This Is Living
Riding The Rainbow
Home Is Where The Heart Is
I Got Lucky
A Whistling Tune

Girls! Girls! Girls!
Girls! Girls! Girls!
I Don't Wanna Be Tied
Where Do You Come From
I Don't Want To
We'll Be Together
A Boy Like Me, A Girl Like You
Earth Boy
Return To Sender
Because Of Love
Thanks To The Rolling Sea
Song Of The Shrimp
The Walls Have Ears
We're Coming In Loaded
Mama
Plantation Rock
Dainty Little Moonbeams
Girls! Girls! Girls! (end title version)

02:43
01:45
01:39
02:33
02:11
03:19


02:32
02:06
02:06
02:40
02:16
02:19
02:22
02:08
02:32
01:38
02:20
02:31
01:31
00:59
01:50
00:57
00:52


Disc 2: It Happened At The World's Fair and Fun In Acapulco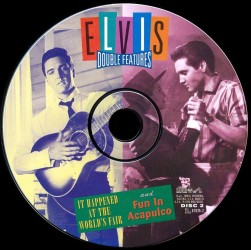 Matrix number: DISC MFG, INC. (H) W.O. 28351-1M 07863618352-B

01
02
03
04
05
06
07
08
09
10
11


12
13
14
15
16
17
18
19
20
21
22
It Happend At The World's Fair:
Beyond The Bend
Relax
Take Me To The Fair
They Remind Me Too Much Of You
One Broken Heart For Sale
I'm Falling In Love Tonight
Cotton Candy Land
A World Of Our Own
How Would You Like To Be
Happy Ending
One Broken Heart For Sale

Fun In Acapulco:
Fun In Acapulco
Vino, Dinero Y Amor
Mexico
El Toro
Marguerita
The Bullfighter Was A Lady
(There's) No Room To Rumba In A Sports Car
I Think I'm Gonna Like It Here
Bossa Nova Baby
You Can't Say No In Acapulco
Guadalajara

02:20
01:49
02:27
02:27
02:10
02:03
02:17
01:56
03:02
02:15
02:01


02:09
01:54
01:32
01:21
01:28
01:53
01:56
01:56
03:21
02:41
01:35


Disc 3: Viva Las Vegas and Roustabout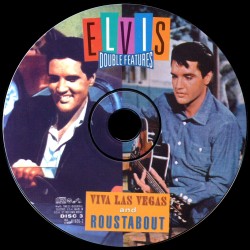 Matrix number: DISC MFG, INC. (H) W.O. 28352-2M 07863618352-C

01
02
03
04
05
06
07
08
09
10
11
12

Viva Las Vegas:
Viva Las Vegas
If You Think I Donīt Need You
I Need Somebody To Lean On
You're The Boss (with Ann-Margret)
What'd I Say
Do The Vega
C'mon Everybody
The Lady Loves Me (with Ann-Margret)
Night Life
Today, Tomorrow And Forever
The Yellow Rose Of Texas/The Eyes Of Texas (Medley)
Santa Lucia



02:22
02:05
02:52
02:32
03:03
02:24
02:18
03:43
01:52
03:24
02:48
01:15


13
14
15
16
17
18
19
20
21
22
23

Roustabout:

Roustabout
Little Egypt
Poison Ivy League
Hard Knocks
It's A Wonderful World
Big Love, Big Heartache
One Track Heart
It's Carnival Time
Carny Town
There's A Brand New Day On The Horizon
Wheels On My Heels


01:58
02:17
02:04
01:43
01:49
01:59
02:17
01:34
01:20
02:01
01:19
Disc 4: Harum Scarum and Girl Happy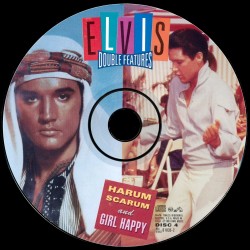 Matrix number: DISC MFG, INC. (H) W.O. 28353-1 07863618352-D


01
02
03
04
05
06
07
08
09
10
11

Harem Scarum:
Harem Holiday
My Desert Serenade
Go East Young Man
Mirage
Kismet
Shake That Tambourine
Hey Little Girl
Golden Coins
So Close, Yet So Far (From Paradise)
Animal Instinct
Wisdom Of The Ages



02:20
01:49
02:27
02:27
02:10
02:03
02:17
01:56
03:02
02:15
02:01


12
13
14
15
16
17
18
19
20
21
22

Girl Happy:

Girl Happy
Spring Fever
Fort Lauderdale Chamber Of Commerce
Startin' Tonight
Wolf Call
Do Not Disturb
Cross My Heart And Hope To Die
The Meanest Girl In Town
Do The Clam
Puppet On A String
I've Got To Find My Baby


02:09
01:54
01:32
01:21
01:28
01:53
01:56
01:56
03:21
02:41
01:35