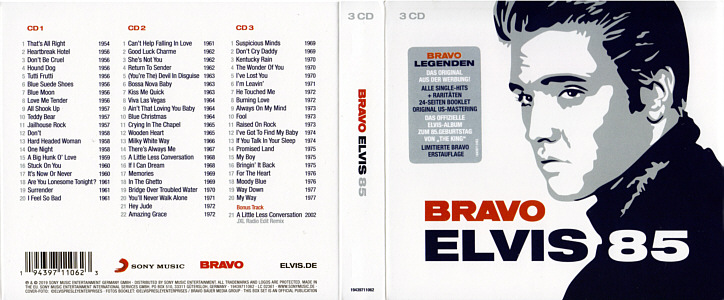 4 panel fold-out digipak
| | | | |
| --- | --- | --- | --- |
| Release: 2019 | Sony Music 019439711062 | Germany | 19 € |

This is the official Sony Music Germany / Bravo birthday CD release to

honor Elvis on his 85th birthday.

4 panel digipak, comes with a 20 pages high-glossy paper booklet with notes about Elvis in German language, written by Alex Gernandt from the Bravo magazine.

Bravo is the largest teen magazine within the German-language sphere. The first issue was published in 1956.
Through the years a lot of title stories were published by the magazine.



℗&© Sony Music Entertainment Germany GmbH.
Sony Music and Bravo logos on back.
Made by Sonopress, Germany
UPC/EAN: 0194397110623


| | |
| --- | --- |
| | Sticker on wrapper |
CD 1
Matrix number:

57377895/19439711062-1 21 IFPI LB47 IFPI 0717
01
02
03
04
05
06
07
08
09
10
11
12
13
14
15
16
17
18
19
20

That's All Right
Heartbreak Hotel
Don't Be Cruel
Hound Dog
Tutti Frutti
Blue Suede Shoes
Blue Moon
Love Me Tender
All Shook Up
(Let Me Be Your) Teddy Bear
Jailhouse Rock
Don't
Hard Headed Woman
One Night
A Big Hunk O' Love
Stuck On You
It's Now Or Never
Are You Lonesome Tonight?
Surrender
I Feel So Bad


01:56
02:08
02:04
02:17
01:59
02:01
02:43
02:42
01:58
01:48
02:28
02:50
01:54
02:33
02:15
02:20
03:17
03:08
01:55
02:54

US-RC1-54-05810
US-RC1-56-02846
US-RC1-56-02859
US-RC1-56-02857
US-RC1-56-02850
US-RC1-56-02848
US-RC1-54-08328
US-RC1-56-05813
US-RC1-57-05814
US-RC1-57-05817
US-RC1-57-05223
US-RC1-00-00255
US-RC1-58-05050
US-RC1-57-03614
US-RC1-58-05822
US-RC1-60-05826
US-RC1-60-01349
US-RC1-60-01348
US-RC1-60-05828
US-RC1-61-05829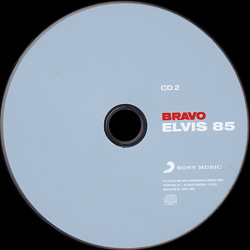 CD 2
Known matrix numbers:


57377892/19439711062-2 21 IFPI LB46 IFPI 0737


57377892/19439711062-2 21 IFPI LB46 IFPI 073Y
01
02
03
04
05
06
07
08
09
10
11
12
13
14
15
16
17
18
19
20
21
22

Can't Help Falling In Love
Good Luck Charm
She's Not You
Return To Sender
(You're The) Devil In Disguise
Bossa Nova Baby
Kiss Me Quick
Viva Las Vegas
Ain't That Loving You Baby
Blue Christmas
Crying In The Chapel
Wooden Heart (take 3,4 - laughing version)
Milky White Way
There's Always Me
A Little Less Conversation
If I Can Dream (stereo master)
Memories (stereo master)
In The Ghetto
Bridge Over Troubled Water
You'll Never Walk Alone
Hey Jude
Amazing Grace


03:03
02:26
02:10
02:08
02:21
02:03
02:48
02:26
02:24
02:09
02:27
03:23
02:15
02:17
02:01
03:11
03:08
02:47
04:36
02:44
04:32
03:33

US-RC1-61-01350
US-RC1-61-05831
US-RC1-62-01352
US-RC1-62-01769
US-RC1-63-05834
US-RC1-63-07139
US-RC1-61-07177
US-RC1-63-01778
US-RC1-58-05832
US-RC1-57-01155
US-RC1-60-00747
US-SM1-14-08945
US-RC1-60-00735
US-RC1-61-07165
US-RC1-11-00179
US-RC1-03-01076
US-RC1-03-01077
US-RC1-69-06016
US-RC1-99-00344
US-RC1-98-08689
US-RC1-69-08281
US-RC1-71-00763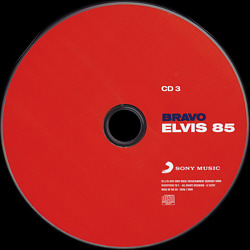 CD 3
Matrix number:

57377889/19439711062-3 21 IFPI LB46 IFPI 076Z
01
02
03
04
05
06
07
08
09
10
11
12
13
14
15
16
17
18
19
20
21

Suspicious Minds
Don't Cry Daddy
Kentucky Rain
The Wonder Of You (live, February 18 - 1970, MS)
I've Lost You
I'm Leavin'
He Touched Me
Burning Love
Always On My Mind
Fool
Raised On Rock
I've Got A Thing About You Baby
If You Talk In Your Sleep
Promised Land
My Boy
Bringin' It Back
For The Heart
Moody Blue
Way Down
My Way (master June 10, 1971)
A Little Less Conversation (JXL Remix, Radio Edit)

04:23
02:48
03:16
02:37
03:33
03:51
02:39
02:51
03:39
02:44
02:41
02:22
02:28
02:53
03:19
03:01
03:23
02:50
02:38
04:34
03:31
US-RC1-69-01355
US-RC1-69-08264
US-RC1-69-03934
US-A82-08-00586
US-RC1-70-01357
US-A82-08-00576
US-RC1-71-00766
US-RC1-87-05934
US-RC1-02-02061
US-RC1-72-00213
US-RC1-73-00223
US-RC1-98-08566
US-RC1-73-01885
US-RC1-73-01886
US-RC1-73-00209
US-RC1-75-01891
US-RC1-76-01895
US-RC1-76-01896
US-RC1-76-01898
US-RC1-71-01927
US-RC1-02-00288