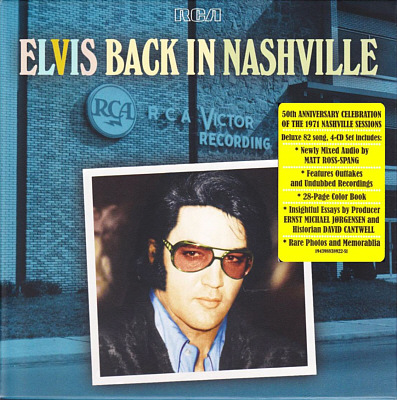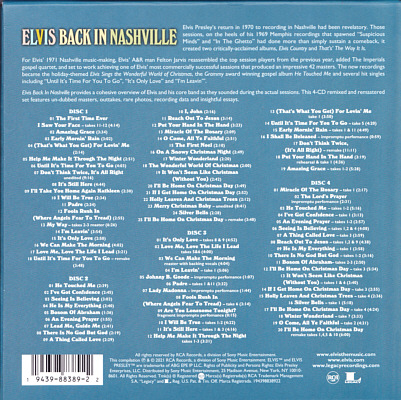 8" Cardboard box with sticker on wrapper

| | | | |
| --- | --- | --- | --- |
| Release: 2021 | Sony Legacy 19439883892 | USA | 37 € |

4 CDs in a fold-out cardboard carrier. The package comes with a 28 pages booklet

Made by Sonopress, Germany. Distributed by Sony Music Entertainment, USA.
Old RCA and Legacy logos on back. RCA block logo, old RCA and Legacy logos on CD.
No copyright collecting society reference on disc.
UPC/EAN: 0194398838922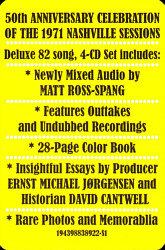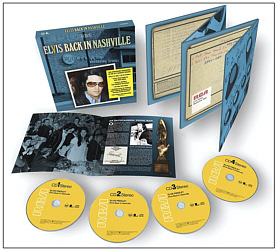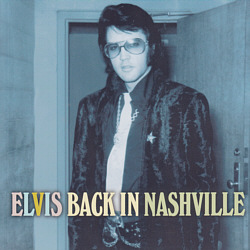 Note: We list this CD under the country "USA", but probably this release was made for selling on the American and international market outside the EU.
It looks identical to the EU issue, but we have some slight changes in the CD layout and on back.
Also the matrix numbers of the CDs are dfferent to the EU release.
CD 1: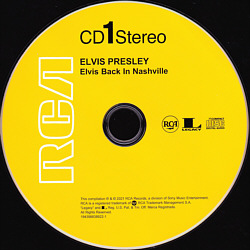 Matrix number: 57982672/19439883892RD1 21 IFPI LP 73 IFPI 076Y

01
02
03
04
05
06
07
08
09
10
11
12
13
14
15
16
17
18
19
20
21
22
The Country/Folks Sides
The First Time Ever I Saw Your Face (takes 11, 12)
Amazing Grace
Early Mornin' Rain
(That's What You Get) For Lovin' Me
Help Me Make It Through The Night
Until It's Time For You To Go
Don't Think Twice, It's All Right (unedited version)

The Piano Recordings
It's Still Here
I'll Take You Home Again Kathleen
I Will Be True

The Pop Sides
Padre
Fools Rush In (Where Angels Fear To Tread)
My Way (take 2, 3 master)
I'm Leavin'
It's Only Love
We Can Make The Morning
Love Me, Love The Life I Lead
Until It's Time For You To Go (remake)


04:20
03:36
03:04
02:15
02:53
04:05
09:18


04:45
02:30
02:38


02:35
02:56
06:27
03:56
02:51
04:04
03:23
03:48


US-RC1-21-01697
US-RC1-21-01698
US-RC1-21-01699
US-RC1-21-01700
US-RC1-21-01701
US-RC1-21-01702
US-RC1-21-01703


US-RC1-21-01704
US-RC1-21-01705
US-RC1-21-01706


US-RC1-21-01707
US-RC1-21-01708
US-RC1-21-01709
US-RC1-21-01710
US-RC1-21-01711
US-RC1-21-01712
US-RC1-21-01713
US-RC1-21-01714



CD 2: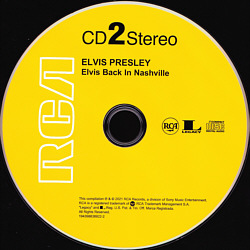 Matrix number: 57982669/19439883892RD2 21 IFPI LP 45 IFPI 076Y

01
02
03
04
05
06
07
08
09
10
11
12
13


14
15
16
17
18
19
20
21
22
23
24
25
The Religious Sides
He Touched Me
I've Got Confidence
Seeing Is Believing
He Is My Everything
Bosom Of Abraham
An Evening Prayer
Lead Me, Guide Me
There Is No God But God
A Thing Called Love
I, John
Reach Out To Jesus
Put Your Hand In The Hand
Miracle Of The Rosary

The Christmas Sides
O Come, All Ye Faithful
The First Noel
On A Snowy Christmas Night
Winter Wonderland
The Wonderful World Of Christmas
It Won't Seem Like Christmas (Without You)
I'll Be Home On Christmas Day
If I Get Home On Christmas Day
Holly Leaves And Christmas Trees
Merry Christmas Baby (unedited)
Silver Bells
I'll Be Home On Christmas Day (remake)

02:41
02:47
03:03
02:42
01:38
01:57
02:42
02:21
02:30
02:18
03:16
03:24
02:11


02:53
02:12
02:51
02:22
02:01
02:43
03:51
02:54
02:14
08:43
02:30
03:48


US-RC1-21-01715
US-RC1-21-01716
US-RC1-21-01717
US-RC1-21-01718
US-RC1-21-01719
US-RC1-21-01720
US-RC1-21-01721
US-RC1-21-01722
US-RC1-21-01723
US-RC1-21-01724
US-RC1-21-01725
US-RC1-21-01726
US-RC1-21-01727


US-RC1-21-01728
US-RC1-21-01729
US-RC1-21-01730
US-RC1-21-01731
US-RC1-21-01732
US-RC1-21-01733
US-RC1-21-01734
US-RC1-21-01735
US-RC1-21-01736
US-RC1-21-01737
US-RC1-21-01738
US-RC1-21-01739
CD 3: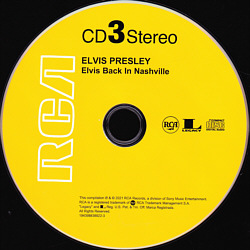 Matrix number: 57982666/19439883892RD3 21 IFPI LP 73 IFPI 0710
01
02
03
04
05
06
07
08
09
10
11
12
13
14
15
16
17
18
19

It's Only Love (takes 8 & 9)
Love Me, Love The Life I Lead (takes 5 & 6)
We Can Make The Morning (master with backing vocals)
I'm Leavin' (take 1)
Johnny B. Goode (impromptu performance)
Padre (takes 1 & 11)
Lady Madonna (impromptu performance)
Fools Rush In (Where Angels Fear To Tread) (take 6)
Are You Lonesome Tonight? (fragment - impromptu performance)
I Will Be True (takes 1 - 2)
It's Still Here (takes 1 & 3)
Help Me Make It Through The Night (takes 1 - 3)
(That's What You Get) For Lovin' Me (take 1)
Until It's Time For You To Go (take 5)
Early Mornin' Rain (takes 1 &11)
I Shall Be Released (impromptu performance)
Don't Think Twice, It's All Right (remake)
Put Your Hand In The Hand (rehearsal & take 1)
Amazing Grace (takes 1 - 2)
04:54
04:02
04:06
05:08
01:09
03:34
01:45
03:16
00:17
04:24
04:17
03:33
03:52
04:22
04:51
01:00
11:12
04:38
05:28

US-RC1-21-01740
US-RC1-21-01741
US-RC1-21-01742
US-RC1-21-01743
US-RC1-21-01744
US-RC1-21-01745
US-RC1-21-01746
US-RC1-21-01747
US-RC1-21-01748
US-RC1-21-01749
US-RC1-21-01750
US-RC1-21-01751
US-RC1-21-01752
US-RC1-21-01753
US-RC1-21-01754
US-RC1-21-01755
US-RC1-21-01756
US-RC1-21-01757
US-RC1-21-01758
CD 4: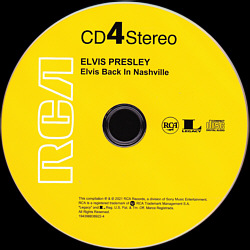 Matrix number: 57982663/19439883892RD4 21 IFPI LP 45 IFPI 0710

01
02
03
04
05
06
07
08
09
10
11


12
13
14
15
16
17
18
19
20
The Religious Outtakes
Miracle Of The Rosary (take 1)
The Lord's Prayer (impromptu performance)
He Touched Me (takes 1 - 2)
I've Got Confidence (take 1)
An Evening Prayer (take 1 - 2)
Seeing Is Believing (takes 1, 2 & 4)
A Thing Called Love (take 3)
Reach Out To Jesus (takes 1, 2 & 9)
He Is My Everything (take 1)
There Is No God But God (takes 1 - 2)
Bosom Of Abraham (takes 2 - 3)

The Christmas Outtakes
I'll Be Home On Christmas Day (take 3)
It Won't Seem Like Christmas (Without You) (takes 1 & 6)
If I Get Home On Christmas Day (take 3)
Holly Leaves And Christmas Trees (take 4)
Silver Bells (take 1)
I'll Be Home On Christmas Day (take 4)
Winter Wonderland (take 7)
O Come, All Ye Faithful (take 2)
I'll Be Home On Christmas Day (remake - takes 1, 4, 5 & 10)

02:18
02:32
05:18
03:15
02:59
04:10
04:00
04:40
04:00
03:18
02:52


05:36
03:42
02:56
02:38
05:20
04:25
03:35
04:23
06:00

US-RC1-21-01759
US-RC1-21-01760
US-RC1-21-01761
US-RC1-21-01762
US-RC1-21-01763
US-RC1-21-01764
US-RC1-21-01765
US-RC1-21-01766
US-RC1-21-01767
US-RC1-21-01768
US-RC1-21-01769


US-RC1-21-01770
US-RC1-21-01771
US-RC1-21-01772
US-RC1-21-01773
US-RC1-21-01774
US-RC1-21-01775
US-RC1-21-01776
US-RC1-21-01777
US-RC1-21-01778