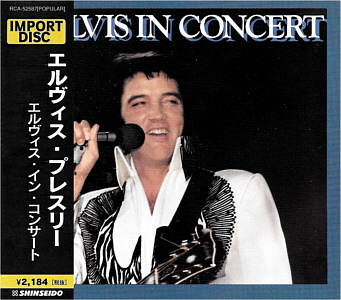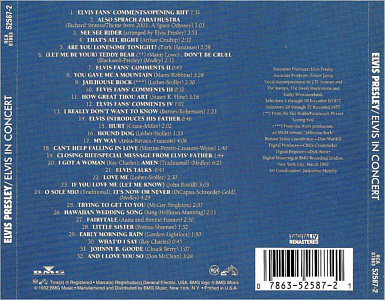 | | | | |
| --- | --- | --- | --- |
| Release: 1996 | BMG 07863-52587-2 | Japan | 30 € |


Came with a 8 pages booklet with liner notes, Nipper, old RCA and BMG logos

Nipper, old RCA and BMG logos on backside

Import disc, Shinseido, Japan - with black obi ¥2,184



In addition, the

CD

was

supplied

with a

RCA

Victor

-sticker

.



Made by JVC, California, USA (INFO: P. BAUMANN)

'RCA VICTOR' - STICKER
FROM THE FRONT WRAPPER

Shinseido Co., Ltd.

engages in the sale of music and video entertainment-related goods and books. It operates through the following segments: Music, Books, and Other.
The music segment sells music and video software, musical instruments, and telecommunication equipment.
The books segment merchandises general books and stationeries.
The other segment includes real estate leasing.
The company is headquartered in Tokyo, Japan.

OBI ¥2,184

J
EWEL CASE WITH OBI ¥2,184 and
'RCA VICTOR' -STICKER

Matrix number: 07863-52587-2 1D13 Y IFPI L239 IFPI 4108
01
02
03
04
05
06
07
08
09
10
11
12
13
14
15
16
17
18
19
20
21
22
23
24
25
26
27
28
29
30
31
32
Elvis Fans' Comments / Opening Riff
Also sprach Zarathustra
See See Rider
That's All Right
Are You Lonesome Tonight?
Teddy Bear / Don't Be Cruel *
Elvis Fans' Comments II
You Gave Me A Mountain
Jailhouse Rock
Elvis Fan's Comments III
How Great Thou Art *
Elvis Fans' Comments IV
I Really Don't Want To Know
Elvis Introduces His Father
Hurt
Hound Dog
My Way
Can't Help Falling In Love *
Closing Riff / Special Message From Elvis' Father
I Got A Woman / Amen (Medley)
Elvis Talks
Love Me
If You Love Me (Let Me Know)
O Sole Mio / It's Now Or Newer (Medley)
Tryin' To Get To You
Hawaiian Wedding Song
Fairytale *
Little Sister *
Early Mornin' Rain
What'd I Say
Johnny B. Goode
And I Love You So *
01:31
01:03
03:53
02:32
02:58
02:11
00:43
03:28
01:30
00:32
03:18
01:00
01:33
00:47
02:02
01:41
04:00
01:39
01:44
06:20
00:41
02:37
03:16
04:08
02:38
02:13
02:46
01:51
01:50
00:45
01:06
03:28
recorded June 21, 1977, Rapid City. (* recorded June 19, 1977, Omaha, Civic Auditorium)