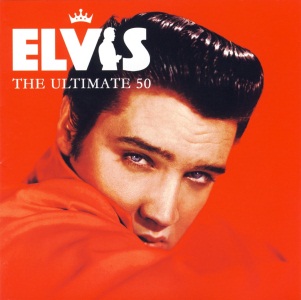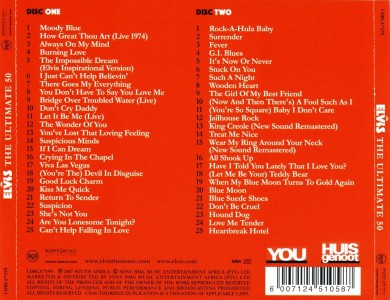 | | | | |
| --- | --- | --- | --- |
| Release: 2007 | Sony/BMG CDRCA7195 | South Africa | 35 € |

℗ & © 2007 Sony BMG Music Entertainment Africa (PTY) Ltd.

Sony-BMG, old RCA and RiSA on disc and back.

Made by Sonopress Arvato, South Africa

UPC/EAN: 6007124510587

Comes with a 8 pages fold-out booklet.

From the linder notes:
This album is an extremely unique creation. Released in 2007 on the 30th anniversary of the death of Elvis Presley, it is not just another compilation of the hit records Elvis released through his career.
Given the opportunity by the Elvis Estate, this album was created by Elvis fans - more specifically, Elvis' South African fans. With the generous co-operation of YOU and HUISGENOOT magazines, a poll was conducted inviting fans to write in and select their favourite 50 Elvis tracks.
With an entry level response that exceeded all expectations, the resulting compilation reflects the 50 songs that mean most to South Africans, and while one might quibble about the omission of a particular personal favourite, the population has spoken!
Huge thanks to Eddie Matthewson of Naspers, Tim Fraser-Harding of SONY-BMG and mostly, to all the participants - here it is - your Elvis Ultimate 50!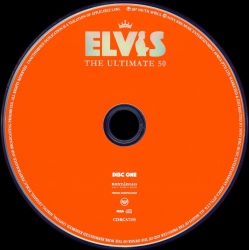 Known matrix numbers:


CDRCA7195-1 Made by SOZA 22/03/07 Made by SOZA 22/03/07 IFPI L024 IFPI 1Q01


CDRCA7195-1 Made by SOZA 22/03/07 Made by SOZA 22/03/07 IFPI L024IFPI 6Y18


CDRCA7195-1 Made by SOZA 22/03/07 Made by SOZA 22/03/07 IFPI L024 IFPI 6Y04

Disc 1
01
02
03
04
05
06
07
08
09
10
11
12
13
14
15
16
17
18
19
20
21
22
23
24
25

Moody Blue
How Great Thou Art (March, 20 - 1974, Memphis, ES)
Alway On My Mind
Burning Love
The Impossible Dream
I Just Can't Help Believin'
There Goes My Everything
You Don't Have To Say You Love Me
Bridge Over Troubled Water (live)
Don't Cry Daddy
Let It Be Me (live)
The Wonder Of You
You've Lost That Loving Feeling
Suspicious Minds
If I Can Dream
Crying In The Chapel
Viva las Vegas
(You're The) Devil In Disguise
Good Luck Charm
Kiss Me Quick
Return To Sender
Suspicion
She's Not You
Are You Lonesome Tonight?
Can't Help Falling In Love

02:51
03:30
03:39
02:58
02:31
04:40
03:00
02:32
04:11
02:48
03:27
02:38
04:23
04:32
03:11
02:25
02:26
02:22
02:27
02:50
02:10
02:37
02:11
03:07
02:58

US-RC1-03-01084
US-A82-06-00085
US-RC1-03-01082
US-RC1-02-00076
US-A82-06-00020
US-RC1-70-01356
US-RC1-70-01868
US-RC1-03-01080
US-RC1-70-05620
US-RC1-03-01078
US-RC1-70-02335
US-A82-05-00125
US-RC1-70-02338
US-RC1-02-00078
US-RC1-03-01076
US-RC1-02-00346
US-RC1-03-01075
US-RC1-02-00345
US-RC1-02-00343
US-RC1-03-00691
US-RC1-02-00077
US-RC1-62-08339
US-RC1-02-00344
US-RC1-60-01348
US-RC1-02-00080

Known matrix numbers:


CDRCA7195-2 Made by SOZA 22/03/07 Made by SOZA 22/03/07 IFPI L024 IFPI 1Q01


CDRCA7195-2 Made by SOZA 22/03/07 Made by SOZA 22/03/07 IFPI L024 IFPI 6Y18


CDRCA7195-2 Made by SOZA 22/03/07 Made by SOZA 22/03/07 IFPI L024 IFPI 6Y04

Disc 2
01
02
03
04
05
06
07
08
09
10
11
12
13
14
15
16
17
18
19
20
21
22
23
24
25

Rock-A-Hula Baby
Surrender
Fever
G.I. Blues
It's Now Or Never
Stuck On You
Such A Night
Wooden Heart
The Girl Of My Best Friend
(Now And Then There's) A Fool such As I
(You're So Square) Baby I Don't Care
Jailhouse Rock
King Creole
Treat Me Nice
Wear My Ring Around Your Neck
All Shook Up
Have I Told You lately That I Love You?
(Let Me Be Your) Teddy Bear
When My Blue Moon Turns To Gold Again
Blue Moon
Blue Suede Shoes
Don't Be Cruel
Hound Dog
Love Me Tender
Heartbreak Hotel

02:02
01:54
03:34
02:40
03:16
02:20
03:01
02:03
02:24
02:38
01:54
02:37
02:10
02:12
02:16
01:59
02:34
01:48
02:22
02:44
02:01
02:04
02:18
02:44
02:08

US-RC1-03-01073
US-RC1-02-00341
US-A82-04-00271
US-RC1-99-01988
US-RC1-02-00339
US-RC1-02-00338
US-RC1-60-05325
US-RC1-02-00083
US-RC1-93-05977
US-RC1-58-03930
US-RC1-57-03616
US-RC1-02-00071
US-RC1-03-01066
US-RC1-03-01064
US-RC1-03-01065
US-RC1-02-00070
US-RC1-57-05041
US-RC1-57-05817
US-RC1-56-03927
US-RC1-54-01856
US-RC1-03-01059
US-RC1-02-00073
US-RC1-02-00072
US-RC1-02-00075
US-RC1-02-00074