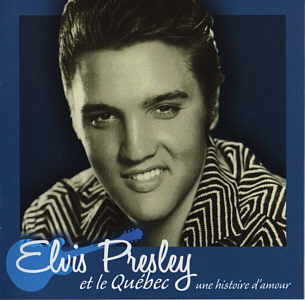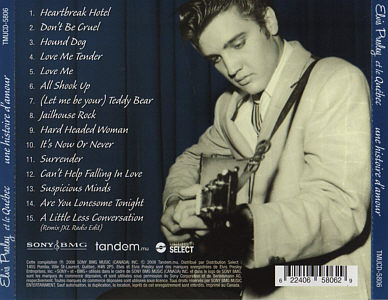 | | | | |
| --- | --- | --- | --- |
| Release: 2008 | Sony/BMG TMUCD-5806 | Canada | 20 € |
| Release: 2017 | Sony Music TMUCD-5806 | Canada | 12 € |
BMG Canada release, produced by tandem.mu
Made by Disques RSB Inc., Quebec / Canada
℗ 2008 SONY BMG Music Canada © Tandem.mu. Distributed by Select Quebec.
Comes with a 12 pages booklet with notes by Philippe Rezzonico and infos about the songs in French language.
Sony-BMG, tandem and Select logos on back.
A note in a Quebec newspaper about this release:
"MONTREAL - It is a rare phenomenon but a new album of songs of Elvis Presley is produced and launched in Quebec, with a booklet completely french.
Entitled "Elvis Presley and Quebec, a love story", the album contains 15 success of the King of rock and roll.
The book tells the story of french history of each song or a story of circumstance, the year of recording music and a historical reminder on a link that unites Presley to his many fans but also to other players of our own scene musical.
There are thousands of albums of its kind with a booklet, but in English.
The selected titles are part of the best known repertoire of Elvis. Of note, Canada, almost half of album sales Elvis are in Quebec. Elvis has sold over a billion albums in the world."

UPC/EAN: 0622406580629

Known matrix numbers:
0ND76<56783> TMUCD5806 MFG BY RSB IFPI L485 IFPI C803
0ND76<56783> TMUCD5806 MFG BY RSB IFPI L485 IFPI C802
01
02
03
04
05
06
07
08
09
10
11
12
13
14
15
Heartbreak Hotel
Don't Be Cruel
Hound Dog
Love Me Tender
Love Me
All Shook Up
(Let Me Be Your) Teddy Bear
Jailhouse Rock
Hard Headed Woman
It's Now Or Never
Surrender
Can't Help Falling In Love
Suspicious Minds
Are You Lonesome Tonight?
A Little Less Conversation (JXL Radio Edit Remix)
02:09
02:04
02:15
02:44
02:44
02:00
01:49
02:37
01:57
03:18
01:55
03:01
04:34
03:08
03:33
US-RC1-02-00074
US-RC1-02-00073
US-RC1-02-00072
US-RC1-02-00075
US-RC1-03-01061
US-RC1-02-00070
US-RC1-57-05817
US-RC1-02-00071
US-RC1-58-05825
US-RC1-02-00339
US-RC1-02-00341
US-RC1-02-00080
US-RC1-02-00078
US-RC1-02-00340
US-RC1-02-00288