Made by Sony DADC, Australia.

Manufactured and distributed by Sony Music Entertainment New Zealand Limited.

Sony Music and Legacy logos on back.

Different track listing to other releases.

UPC/EAN: 0887254444923

Friday, August 10, 2012
Sony - Two months ago we opened up a portion of our website to ask for your favourite Elvis songs. The response we received resulted in this album, the New Zealand edition of I Am An Elvis Fan.
Around the world, countries have voted and had their own edition published. This will only be released here, for kiwis. So what songs did we choose?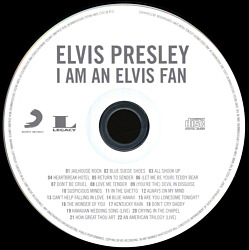 Matrix number: SONY DADC AUSTRALIA A0100981991-0101 01 IFPI L681 IFPI 6543
01
02
03
04
05
06
07
08
09
10
11
12
13
14
15
16
17
18
19
20
21
22
Jailhouse Rock
Blue Suede Shoes
All Shook Up
Heartbreak Hotel
Return To Sender
(Let Me Be Your) Teddy Bear
Don't Be Cruel
Love Me Tender
(You're The) Devil In Disguise
Suspicious Minds
In The Ghetto
Always On My Mind
Can't Help Falling In Love
Blue Hawaii
Are You Lonesome Tonight?
The Wonder Of You
Kentucky Rain
Don't Cry Daddy
Hawaiian Wedding Song (Live)
Crying In The Chapel
How Great Thou Art
An American Trilogy (Live)