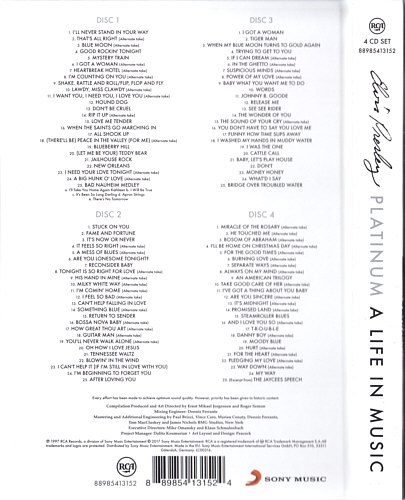 | | | | |
| --- | --- | --- | --- |
| Release: 2017 | Sony Music 8898541352 | EU | 18 € |
Made by Sony DADC, Astria
4 CD set in a book style hardcover digipak. Includes a 48 pages with liner notes by Colin Escott.
UPC/EAN: 0889854131524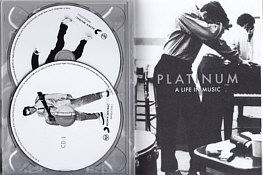 NSIDE: BOOK WITH PLASTIC HOLDERS FOR THE CDs
This 2017 reissue has the same content as the 1997 release, although in the meantime new mastered songs are on the market.
UPC/EAN: 0889854131524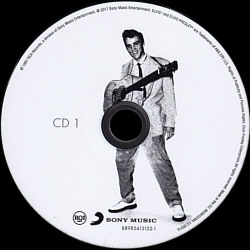 CD 1:
Matrix number: SONY DADC A0102789485-0104 15 A00 IFPI L555 IFPI 946R

01
02
03
04
05
06
07
08
09
10
11
12
13
14
15
16
17
18
19
20
21
22
23
24
25
I'll Never Stand In Your Way (1954 demo)
That's All Right (FS takes 1,2 - take 3)
Blue Moon (take 5)
Good Rockin' Tonight
Mystery Train
I Got A Woman (alternate take)
Heartbreak Hotel (take 6)
I'm Counting On You (take 13)
Shake, Rattle And Roll / Flip, Flop And Fly (live)
Lawdy, Miss Clawdy (take 1)
I Want You, I Need You, I Love You (take 4)
Hound Dog (live)
Don't Be Cruel
Rip It Up (take 15)
Love Me Tender (live)
When The Saints Go Marching In (home recording)
All Shook Up
(There'll Be) Peace In The Valley (For Me) (take 4)
Bluebery Hill (acetate)
(Let Me Be Your) Teddy Bear
Jailhouse Rock
New Orleans
I Need Your Love Tonight (alternate take)
A Big Hunk O' Love (take 4)
Bad Nauheim Medley 1959:
02:03
02:08
03:14
02:12
02:25
02:26
02:16
02:31
02:11
02:22
02:47
02:36
02:03
02:12
03:18
01:23
01:58
03:24
03:22
01:46
02:27
01:59
02:01
02:14
04:06
US-RC1-54-05580
US-RC1-54-05559
US-RC1-54-05560
US-RC1-54-05582
US-RC1-55-05812
US-RC1-56-05562
US-RC1-56-05563
US-RC1-56-05564
US-RC1-56-05565
US-RC1-56-05566
US-RC1-56-05567
US-RC1-56-05568
US-RC1-56-02859
US-RC1-56-05569
US-RC1-56-05570
US-RC1-56-05571
US-RC1-57-05814
US-RC1-57-05573
US-RC1-57-05574
US-RC1-57-05817
US-RC1-57-05223
US-RC1-58-03620
US-RC1-58-05575
US-RC1-58-05576
US-RC1-59-05577
Iīll Take You Home Again Kathleen
I Will Be True
Itīs Been So Long Darling
Apron Strings
Thereīs No Tomorrow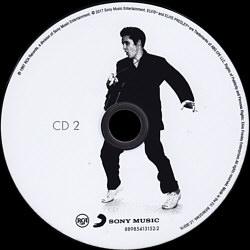 CD2:
Matrix number: SONY DADC A0102789487-0204 15 A00 IFPI L555 IFPI 945Q


01
02
03
04
05
06
07
08
09
10
11
12
13
14
15
16
17
18
19
20
21
22
23
24
25
Stuck On You (live)
Fame And Fortune (live)
It's Now Or Never
It Feels So Right (take 3)
A Mess Of Blues (take 1)
Are You Lonesome Tonight?
Reconsider Baby
Tonight Is So Right For Love (take 3)
His Hand In Mine (take 1)
Milky White Way (take 3)
I'm Comin' Home (take 3)
I Feel So Bad (take 1)
Can't Help Falling In Love
Something Blue (spliced take 1/2)
Return To Sender
Bossa Nova Baby (take 2)
How Great Thou Art (take 2)
Guitar Man (take 5)
You'll Never Walk Alone (take 2)
Oh How I Love Jesus (home recording)
Tennessee Waltz (home recording)
Blowin' In The Wind (home recording)
I Can't Help It (If I'm Still In Love With You) (home recording)
I'm Beginning To Forget You (home recording)
After Loving You (home recording)
02:25
02:26
03:14
02:10
02:45
03:07
03:39
02:16
03:16
02:32
02:26
02:58
03:01
03:06
02:07
02:17
02:56
02:26
03:42
01:37
01:21
02:06
01:54
00:56
02:26

US-RC1-60-05578
US-RC1-60-05579
US-RC1-60-01349
US-RC1-60-05326
US-RC1-60-05581
US-RC1-60-01348
US-RC1-60-05329
US-RC1-60-05583
US-RC1-60-05584
US-RC1-60-05585
US-RC1-61-05586
US-RC1-61-05587
US-RC1-61-01350
US-RC1-62-05591
US-RC1-62-01769
US-RC1-63-05592
US-RC1-66-05593
US-RC1-67-05597
US-RC1-67-05598
US-RC1-66-05594
US-RC1-66-05595
US-RC1-66-05596
US-RC1-61-05588
US-RC1-61-05589
US-RC1-61-05590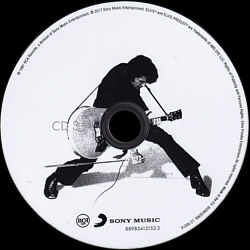 CD 3:
Matrix number: SONY DADC A0102789488-0304 15 A00 IFPI L555 IFPI 945R

01
02
03
04
05
06
07
08
09
10
11
12
13
14
15
16
17
18
19
20
21
22
23
24
25
I Got A Woman (rehearsal)
Tiger Man (rehearsal)
When My Blue Moon Turns To Gold Again (NBC TV Special)
Trying To Get To You (NBC TV Special)
If I Can Dream (take 1)
In The Ghetto (take 3)
Suspicious Minds (alternate take)
Power Of My Love (take 3)
Baby What You Want Me To Do (Las Vegas, 1969)
Words (Las Vegas, 1969)
Johnny B. Goode (Las Vegas, 1969)
Release Me (Las Vegas, 1970)
See See Rider (Las Vegas, 1970)
Wonder Of You, The (Las Vegas, 1970)
The Sound Of Your Cry (take 3)
You Don't Have To Say You Love Me
Funny How Time Slips Away
I Washed My Hands In Muddy Water (rehearsal)
I Was The One (rehearsal)
Cattle Call (jam)
Baby, Let's Play House (rehearsal)
Don't (rehearsal)
Money Honey (rehearsal)
What'd I Say (rehearsal)
Bridge Over Troubled Water (Las Vegas, 1970)
01:42
02:46
00:35
02:57
03:08
02:40
03:18
03:03
02:18
02:33
02:04
01:47
02:48
02:38
03:31
02:31
04:19
04:15
01:02
00:25
01:10
01:55
01:24
04:46
04:12

US-RC1-68-05599
US-RC1-68-05600
US-RC1-68-05601
US-RC1-68-05602
US-RC1-68-05603
US-RC1-69-05604
US-RC1-69-05605
US-RC1-69-05606
US-RC1-69-05607
US-RC1-69-05608
US-RC1-69-05609
US-RC1-70-05661
US-RC1-70-05660
US-RC1-70-05610
US-RC1-70-05612
US-RC1-70-01358
US-RC1-70-01916
US-RC1-70-05613
US-RC1-70-05614
US-RC1-70-05615
US-RC1-70-05616
US-RC1-70-05617
US-RC1-70-05618
US-RC1-70-05619
US-RC1-70-05620


CD 4:
Matrix number: SONY DADC A0102789489-0404 15 A00 IFPI L555 IFPI 943T
01
02
03
04
05
06
07
08
09
10
11
12
13
14
15
16
17
18
19
20
21
22
23
24
25
Miracle Of The Rosary (take 1)
He Touched Me (take 2)
Bosom Of Abraham (take 3)
I'll Be Home On Christmas Day (take 4)
For The Good Times (take 2)
Burning Love (take 4)
Separate Ways (take 25)
Always On My Mind (take 2)
An American Trilogy
Take Good Care Of Her (take 4)
I've Got A Thing About You Baby
Are You Sincere (take 2)
It's Midnight (take 10)
Promised Land (take 5)
Steamroller Blues (live)
And I Love You So (take 2)
T-R-O-U-B-L-E
Danny Boy (take 9, remix w/o chorus)
Moody Blue
Hurt (take 2)
For The Heart (take 1)
Pledging My Love (take 3)
Way Down (take 2a, man-made extended)
My Way (previously unreleased, live)
Excerpt from the Jaycees Speech
01:53
02:36
01:38
03:49
03:17
03:05
02:38
03:34
04:17
02:53
02:21
02:02
03:21
03:22
02:52
03:40
03:03
03:54
02:50
02:09
03:47
04:52
03:05
03:48
00:20
US-RC1-71-05621
US-RC1-71-05622
US-RC1-71-05623
US-RC1-71-05624
US-RC1-72-05626
US-RC1-72-05627
US-RC1-72-05628
US-RC1-72-05629
US-RC1-73-05630
US-RC1-73-05631
US-RC1-73-00208
US-RC1-73-05632
US-RC1-73-05633
US-RC1-73-05634
US-RC1-74-05635
US-RC1-75-05636
US-RC1-75-01890
US-RC1-76-05637
US-RC1-76-01896
US-RC1-76-05639
US-RC1-76-05638
US-RC1-76-05640
US-RC1-76-05641
US-RC1-77-05642
US-RC1-71-05625