1st release


| | | | |
| --- | --- | --- | --- |
| Release: 1999 | BMG BVCM-34003~4 | Japan | 40 € |

The Japan issue came with two different releases with two different Obis. Same matrix numbers - same inserts.

The back of obi on 1st release has info about promotional offers -

'Send in so many coupons to get Elvis goods'

.
The 2nd release hasn't that offer on the obi, and has a black & white block instead of the oval with Japanese Kanji.

Info - David Ward

Comes with a fold put booklet with liner notes by Peter Guralnick plus a 52 pages booklet in Japanese

UPC/EAN: 4988017086223. Pressed by Sonopress Hong Kong.
| | | |
| --- | --- | --- |
| | Obi ¥4,282 front 1st release | Obi ¥4,282 back 1st release |

CD 1:
Matrix number: SONT / BVCM34003 A 83231 IFPI L026 ifpi 0927


01
02
03
04
05
06
07
08
09
10
11
12
13
14
15
16
17
18
19
That's All Right
Blue Moon Of Kentucky
Good Rockin' Tonight
I Don't Care If The Sun Don't Shine
Milkcow Blues Boogie
You're A Heartbreaker
Baby, Let's Play House
I'm Left, You're Right, She's Gone
I Forgot To Remember To Forget
Mystery Train
I Love You Because
Harbor Lights
Blue Moon
Tomorrow Night
I'll Never Let You Go (Little Darlin')
Just Because
I'm Left, You're Right, She's Gone
Trying To Get To You
When It Rains, It Really Pours
01:57
02:03
02:13
02:29
02:39
02:12
02:17
02:38
02:30
02:25
02:44
02:36
02:41
03:00
02:26
02:35
02:42
02:32
04:03

US-RC1-54-05810
US-RC1-54-03925
US-RC1-54-05582
US-RC1-54-08067
US-RC1-54-08068
US-RC1-54-08069
US-RC1-55-05811
US-RC1-55-08070
US-RC1-55-03926
US-RC1-55-05812
US-RC1-54-08136
US-RC1-54-06562
US-RC1-54-01856
US-RC1-54-08071
US-RC1-54-01855
US-RC1-54-01854
US-RC1-55-06565
US-RC1-55-01857
US-RC1-55-06567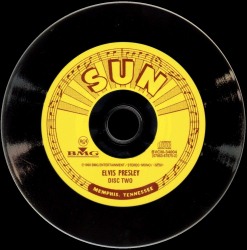 CD 2:
Matrix numbers: SONT / BVCM34003 A 83277 IFPI L026 ifpi 0923


01
02
03
04
05
06
07
08
09
10
11
12
13
14
15
16
17
18
19
My Happiness (acetate)
That's When Your Heartaches Begin (acetate)
I'll Never Stand In Your Way (acetate)
It Wouldn't Be The Same Without You (acetate)
I Love You Because (alternate take)
That's All Right (alternate take)
Blue Moon Of Kentucky (alternate take)
Blue Moon (takes 6-8)
I'll Never Let You Go (Little Darlin') (alternate take)
I Don't Care If The Sun Don't Shine (alternate take)
I'm Left, You're Right, She's Gone (alternate take, slow version)
Fool, Fool, Fool (acetate)
Shake, Rattle & Roll (acetate)
I'm Left, You're Right, She's Gone (live, acetate)
That's All Right (live, acetate)
Money Honey (live, acetate)
Tweedlee Dee (live, acetate)
I Don't Care If The Sun Don't Shine (live, acetate)
Hearts Of Stone (live, acetate)
02:33
02:48
02:02
02:05
03:53
02:13
01:05
03:05
01:05
03:32
02:47
01:53
02:20
01:50
01:43
02:39
02:12
02:23
01:57

US-RC1-53-08122
US-RC1-53-08123
US-RC1-54-05580
US-RC1-54-08119
US-RC1-54-08120
US-RC1-54-05559
US-RC1-54-06563
US-RC1-54-08121
US-RC1-54-08134
US-RC1-54-06564
US-RC1-55-08124
US-RC1-55-08125
US-RC1-55-08126
US-RC1-55-08132
US-RC1-54-08137
US-RC1-55-08128
US-RC1-55-08127
US-RC1-55-08130
US-RC1-55-08129