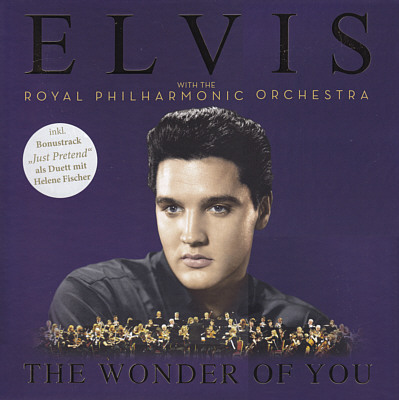 LP sized box
| | | | |
| --- | --- | --- | --- |
| Release: 2016 | Sony Legacy 88985371882 | EU | 52 € |

New RCA, Sony Legacy and Sony Music logos on back - BIEM/GEMA
UPC/ EAN: 0889853718825
The collector's box includes additional tracks on CD,
2 heavyweight LP, a poster and a 12" booklet,
all housed in a LP sized box.
Announcement: Legacy Recordings, the catalog division of Sony Music Entertainment, is proud to announce the release of The Wonder Of You: Elvis Presley With The Royal Philharmonic Orchestra, on October 21, 2016. This remarkable new album is the follow up to last year's huge global phenomenon If I Can Dream: Elvis Presley With The Royal Philharmonic Orchestra, which topped charts worldwide and sold over 1.5 million copies.

The Wonder Of You focuses on the iconic artist's unmistakable voice with lush new orchestral accompaniment. Recorded at Abbey Road Studios in London with acclaimed producers Don Reedman and Nick Patrick, the album features Elvis' most dramatic original performances augmented with lush new arrangements by The Royal Philharmonic Orchestra. The album spans a variety of musical styles that Elvis embraced, from rock and gospel to country and ballads, featuring beloved Presley classics along with several surprises. Standout tracks include a sultry new version of the "A Big Hunk O' Love," the glorious "Amazing Grace," the heartfelt emotion on "Kentucky Rain," a stunning new take on the classic "Always On My Mind," and the fun, upbeat "I've Got A Think About You Baby."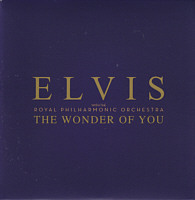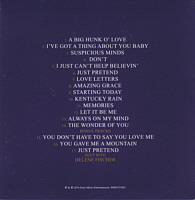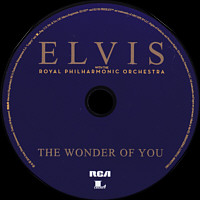 Black CD in a cardboard sleeve

Matrix number: None (mould code: IFPI 5J38)
01
02
03
04
05
06
07
08
09
10
11
12
13
14
15
16
17
A Big Hunk O' Love
I've Got A Thing About You Baby
Suspicious Minds
Don't
I Just Can't Help Believin'
Just Pretend
Love Letters
Amazing Grace
Starting Today
Kentucky Rain
Memories
Let It Be Me
Always On My Mind
The Wonder Of You
You Don't Have To Say You Love Me
You Gave Me A Mountain
Just Pretend (Duet with Helene Fischer)
02:22
02:35
03:45
03:10
04:35
04:06
02:55
03:47
03:11
04:03
03:15
03:26
03:39
02:31
02:34
03:15
04:05

US-RC1-16-01766
US-RC1-16-01767
US-RC1-16-01768
US-RC1-16-01769
US-RC1-16-01770
US-RC1-16-01771
US-RC1-16-01772
US-RC1-16-01773
US-RC1-16-01774
US-RC1-16-01775
US-RC1-16-01776
US-RC1-16-01777
US-RC1-16-01778
US-RC1-16-01779
US-RC1-16-01836
US-RC1-16-01837
US-RC1-16-01780