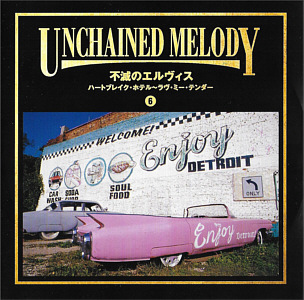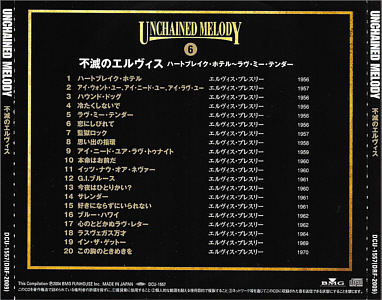 Eternal Elvis


| | | | |
| --- | --- | --- | --- |
| Release: 2004 | BMG Funhouse DCU-1557 (DRF-2009) | Japan | |
| Release: 2004 | BMG Funhouse DCU-1557A (DRF-2009-1) | Japan | |
Part of a 6 CD box.
Sold only by mail order from Universal Music and BMG Funhouse in Japan for ¥13.980 (~135 €).
The Unchained Melody box includes one Elvis CD and five sampler CDs.

℗ 2004 BMG Funhouse Inc.
Comes with a gatefold inlay, inside blank.
DCU-1557 (DRF-2009) on back, spines and CD.
See also the listing in the Various Artists section.
Same tracks as on the "The Memorable Popular Hit Parade" CD.
Note: This is the first issue of this CD. The songs 1-6 are made in ectronically reprocessed stereo *.
The second issue includes the songs 1 - 6 in true mono.

We assume that the Electronic Stereo CD should not exist in the box. On the sticker on the box is written in Japanese language:
Thank you for purchasing this product.
This product is a copyrighted work and has been opened once.
We do not accept returns of the product. Please understand that this is not possible.
Apparently the CD should be replaced, but this didn't work in some cases.

| | |
| --- | --- |
| | Front of box |
Matrix number: DCU-1557 MT G01 IFPI L270 IFPI I 4430

01
02
03
04
05
06
07
08
09
10
11
12
13
14
15
16
17
18
19
20

Heartbreak Hotel *
I Want You, I Need You, I Love You *
Hound Dog *
Don't Be Cruel *
Love Me Tender *
All Shook Up *
Jailhouse Rock *
Wear My Ring Around Your Neck *
I Need Your Love Tonight *
Stuck On You
It's Now Or Never
G.I. Blues
Are You Lonesome Tonight
Surrender
Can't Help Falling In Love
Blue Hawaii
Return To Sender
Viva Las Vegas
In The Ghetto
You Don't Have To Say You Love Me
02:13
02:45
02:19
02:07
02:51
02:03
02:36
02:18
02:07
02:21
03:16
02:37
03:08
01:52
03:05
02:37
02:10
02:18
02:47
02:35