| | | | |
| --- | --- | --- | --- |
| Release: 2010 | Sony 88697804532 | Finland | 25 € |




Came with an 8 pages booklet with more than twenty pictures, old RCA,
Legacy, Cirque de Soleil, CKX, Graceland, Sony Music.

Three pictures and seven logos on backside - Clear tray

Made by Sony Music, Germany (INFO: P. BAUMANN)


TICKER FROM FRONT OF JEWEL CASE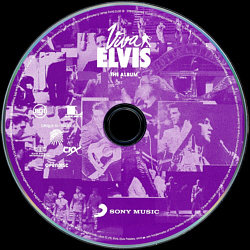 Matrix number:

54367689/88697804532 22 IFPI LB 50 IFPI 0783




Anna Puu

(born 1982 in Outokumpu, Finland) is a Finnish pop singer.
She was 2nd in the Finnish 'Idols' 2008 competition.

'Idols' was a Finnish reality-television singing competition. It debuted in the summer of 2003,
and went on to become one of the most popular shows on Finnish television.

The program was based on the popular 'Pop Idol' (best new young pop singer (or 'pop idol')
in the UK.

FRONT OF JEWEL CASE WITH STICKER

Commercial video spots for the musical: 'Viva Elvis'


01
02
03
04
05
06
07
08
09
10
11
12
13
Opening
Blue Suede Shoes
That's All Right
Heartbreak Hotel
Love Me Tender (guest singer - Dea Norberg)
King Creole (guest singer - Jennle Shallow)
Bossa Nova Baby
Burning Love
Memories (partial, instrumental)
Can't Help Falling In Love (guest singer - Sherry St-Germain)
You'll Never Walk Alone (partial - Piano Interlude)
Suspicious Minds (guest singer - Stacie Tabb)
Love Me Tender (duet with Anna Puu)
02:11
03:11
04:41
04:55
04:13
04:26
03:07
04:16
00:54
04:39
01:27
04:25
04:13

US-RC1-10-00795
US-RC1-10-00796
US-RC1-10-00797
US-RC1-10-00798
US-RC1-10-00799
US-RC1-10-00800
US-RC1-10-00801
US-RC1-10-00802
US-RC1-10-00803
US-RC1-10-00804
US-RC1-10-00805
US-RC1-10-00806
US-RC1-10-00812


#1,5,6,9,11 are mixed by Robert Meunier & Erich van Tourneau
#2,7,8, 10 are mixed by Serban Ghenea
#3,4,12 are mixed by Brendan O'Brien.