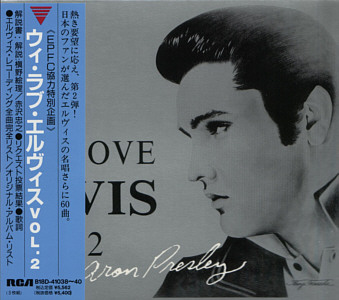 CARDBOARD SLIPCASE


| | | | |
| --- | --- | --- | --- |
| Release: 1990 | BMG B18D-41038~40 | Japan | 50 € |
The 3 CDs comes in jewel cases housed in a cardboard slipcase.
Included is a 80 pages booklet with lyrics and info in English and Japanese.
Around the box is a glued flag ¥5,562. UPC/EAN: 4988017015056
Same artwork as on the release from 1989. Only the matrix numbers are different.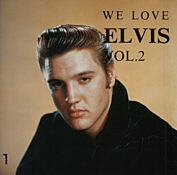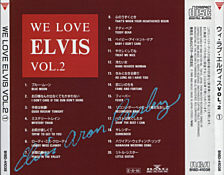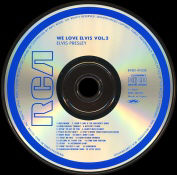 CD1
Matrix number: B18D-41038- 2F 11 V
01
02
03
04
05
06
07
08
09
10
11
12
13
14
15
16
17
18
19
20
Blue Moon
I Don't Care If The Sun Don't Shine
Good Rockin' Tonight
Mystery Train
Tryin' To Get To You
Lawdy Miss Clawdy
(There'll Be) Peace In The Valley (For Me)
That's When Your Heartaches Begin
(Let Me Be Your) Teddy Bear
(You're So Square) Baby I Don't Care
Treat Me Nice
Hard Headed Woman
As Long As I Have You
Fame And Fortune
Fever
Reconsider Baby
Doin' The Best I Can
Surrender
Hawaiian Wedding Song
Little Sister

02:36
02:30
02:16
02:26
02:35
02:11
03:24
03:25
01:50
01:56
02:15
01:55
01:52
02:32
03:35
03:43
03:14
01:53
02:52
02:31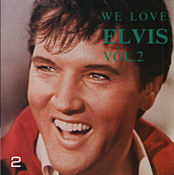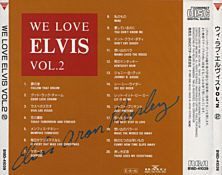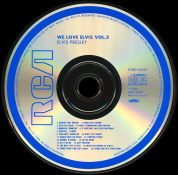 CD2
Matrix number: B18D-41039-A3F 12 V

01
02
03
04
05
06
07
08
09
10
11
12
13
14
15
16
17
18
19
20
Follow That Dream
Good Luck Charm
Viva Las Vegas
Today Tomorrow And Forever
Memphis Tennessee
If Every Day Was Like Christmas
Suppose
Mine
You Don't Know Me
Don't Cry Daddy
Mama Liked The Roses
Kentucky Rain
Johnny B. Goode (August 24 -1969, MS)
See See Rider (February 18, 1970, MS)
Let It Be Me (February 17 - 1970, MS)
Just Pretend
The Next Step Is Love
Make The World Go Away
Funny How Time Slips Away
There Goes My Everything

01:39
02:25
02:18
03:27
02:11
02:56
02:05
02:38
02:33
02:48
02:33
03:16
02:11
02:39
03:34
04:06
03:34
03:38
04:15
02:59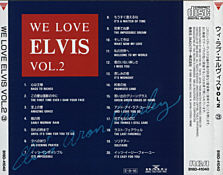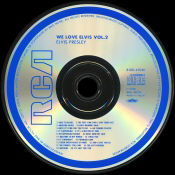 CD3
Matrix number: B18D-41040-A2F 12 V
01
02
03
04
05
06
07
08
09
10
11
12
13
14
15
16
17
18
19
20
Rags To Riches
The First Time Ever I Saw Your Face
Amazing Grace
Early Morning Rain
Until Its Time For You To Go
An Evening Prayer
Its Impossible (February 16, 1972)
It's A Matter Of Time
The Impossible Dream (February 16, 1972)
What Now My Love (January 14, 1973, Hawaii)
Welcome To My World (January 14, 1973, Hawaii)
I Miss You
It's Midnight
Promised Land
Green Green Grass Of Home
And I Love You So
She Thinks I Still Care
The Last Farewell
Solitare
It's Easy For You

01:57
03:47
03:36
02:59
04:00
01:56
02:54
03:06
02:49
03:17
02:01
02:15
03:24
02:55
03:38
03:42
03:53
04:06
04:44
03:28