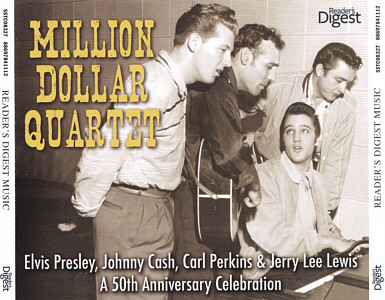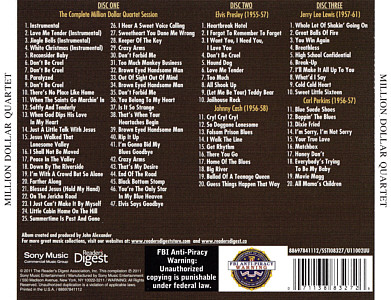 Fat Jewel Case
| | | |
| --- | --- | --- |
| Release: 2011 | Sony Music / Readers's Digest 88697841112 | USA |
3 CD set in a fat jewel case.

Contains the Million-Dollar-Quartet session and first recordings of the participating artists.
Note: "Million Dollar Quartet" is a recording of an impromptu jam session involving Elvis Presley, Jerry Lee Lewis, Carl Perkins, and Johnny Cash made on December 4, 1956, at the Sun Record Studios in Memphis, Tennessee.

Comes 4 page booklet with info about the session and the tracklists.
℗ 2011 Reader's Digest Association Inc. © 2011 Sony Music Entertainment USA
Reader's Digest and Sony Music Commercial Music Group logos on back and on CD.
UPC/EAN: 0071138832726

Disc 1: The Complete Million Dollar Quartet Session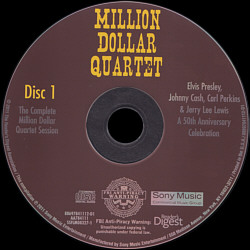 Matrix number: DIDX - 693157 1 IFPI L329 IFPI 50AA

01
02
03
04
05
06
07
08
09
10
11
12
13
14
15
16
17
18
19
20
21
22
23
24
25
26
27
28
29
30
31
32
33
34
35
36
37
38
39
40
41
42
43
44
45
46
47
Instrumental (unknown)
Love Me Tender (instrumental)
Jingle Bells (Instrumental)
White Christmas (instrumental)
Reconsider Baby
Don't Be Cruel
Don't Be Cruel
Paralyzed
Don't Be Cruel
There's No Place Like Home
When The Saints Go Marchin' In
Softly And Tenderly
When God Dips His Love In My Heart
Just A Little Talk With Jesus
Jesus Walked That Lonesome Valley
I Shall Not Be Moved
Peace In The Valley
Down By The Riverside
I'm With A Crowd But So Alone
Farther Along
Blessed Jesus (Hold My Hand)
On The Jericho Road
I Just Can't Make It By Myself
Little Cabin Home On The Hill
Summertime Is Past And Gone
I Hear A Sweet Voice Calling
Sweetheart You Done Me Wrong
Keeper Of The Key
Crazy Arms
Don't Forbid Me
Too Much Monkey Business
Brown Eyed Handsome Man
Out Of Sight Out Of Mind
Brown Eyed Handsome Man
Don't Forbid Me
You Belong To My Heart
Is It So Strange
That's When Your Heartaches Begin
Brown Eyed Handsome Man
Rip It Up
I'm Gonna Bid My Blues Goodbye
Crazy Arms
That's My Desire
End Of The Road
Black Bottom Stomp
You're The Only Star In My Blue Heaven
Elvis Says Goodbye
Disc 2: Elvis Presley (1955-57) & Johnny Cash (1956-58)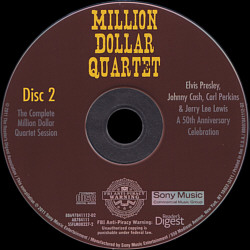 Matrix number: DIDX - 693159 1 IFPI L327 IFPI 507E
01
02
03
04
05
06
07
08
09
10
11
12
13
14
15
16
17
18
19
20
Elvis Presley - Heartbreak Hotel
Elvis Presley - I Forgot To Remember To Forget
Elvis Presley - I Want Youm I Need Youm I Love You
Elvis Presley - Don't Be Cruel
Elvis Presley - Hound Dog
Elvis Presley - Love Me Tender
Elvis Presley - Too Much
Elvis Presley - All Shook Up
Elvis Presley - (Let Me Be Your) Teddy Bear
Elvis Presley - Jailhouse Rock
Johnny Cash - Cry, Cry, Cry
Johnny Cash - So Doggone Lonesome
Johnny Cash - Folsom Prison Blues
Johnny Cash - I Walk The Line
Johnny Cash - Get Rhythm
Johnny Cash - There You Go
Johnny Cash - Home Of The Blues
Johnny Cash - Big River
Johnny Cash - Ballad Of A Teenage Queen
Johnny Cash - Guess Things Happen That Way
Disc 3: Jerry Lee Lewis (1957-61) & Carl Perkins (1956-57)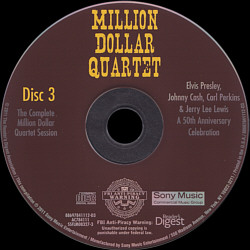 Matrix number: DIDX - 693162 1 IFPI L329 IFPI 5002
01
02
03
04
05
06
07
08
09
10
11
12
13
14
15
16
17
18
19
20
Jerry Lee Lewis - Whole Lotta Shakin' Goin' On
Jerry Lee Lewis - Great Balls Of Fire
Jerry Lee Lewis - You Win Again
Jerry Lee Lewis - Breathless
Jerry Lee Lewis - High School Confidential
Jerry Lee Lewis - Break-Up
Jerry Lee Lewis - I'll Make It Up To You
Jerry Lee Lewis - What'd I Say
Jerry Lee Lewis - Cold Cold Heart
Jerry Lee Lewis - Sweet Little Sixteen
Carl Perkins - Blue Suede Shoes
Carl Perkins - Boppin' the Blues
Carl Perkins - Dixie Fried
Carl Perkins - I'm Sorry, I'm Not Sorry
Carl Perkins - Your True Love
Carl Perkins - Matchbox
Carl Perkins - Honey Don't
Carl Perkins - Everybody's Trying To Be My Baby
Carl Perkins - Movie Mag
Carl Perkins - All Mama's Children