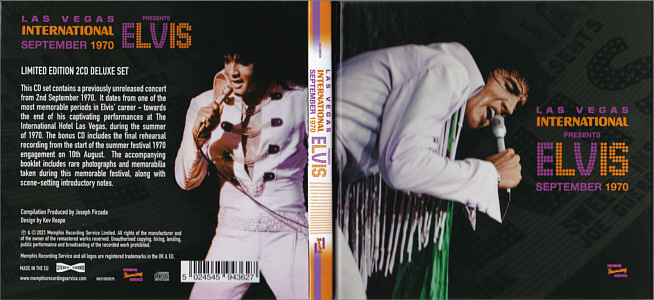 Manufactured and distributed by Memphis Recording Service, 2021.
Catalog number MRS10009070

UPC/EAN: 5024545943627


CD 1: Las Vegas, International Hotel, September 2, 1970 - Dinner Show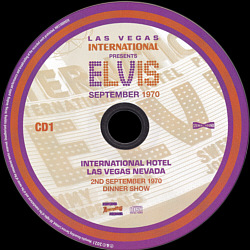 Matrix number: 2100010004291 www.keyproduction.co.uk IFPI LK97 IFPI AEW52
01
02
03
04
05
06
07
08
09
10
11
12
13
14
15
16
17
18
Intro / That's All Right
I Got A Woman (with false start) / Amen
Elvis talks "Welcome to the Golden Nugget, I am Johnny Cash..."
Love Me Tender (with intro break)
I've Lost You
I Just Can't Help Believin' (with break in 2nd verse)
You've Lost That Lovin' Feelin'
Polk Salad Annie
Band introduction
Johnny B. Goode *
Elvis talks / The Wonder Of You
Fooling around with "Heartbreak Hotel"
One Night
Fooling around / Blue Suede Shoes / Whole Lotta Shakin' Goin' On (excerpt)
Fooling around / Hound Dog
Bridge Over Troubled Water
Suspicious Minds (Midnight Show)
Can't Help Falling in Love (Midnight Show)
02:18
02:59
02:40
02:41
03:03
04:54
04:26
04:12
03:34
01:46
03:02
02:29
01:29
02:30
02:44
04:33
05:40
02:00
*
After Johnny B. Goode the recording is faded out, the continuation of the band introduction is missing.
The recording ends after Bridge Over Troubled Water. Suspicious Minds and Can't Help Falling In Love from the Midnight Show on the same day have been added

CD 2: Final Rehearsals Main Stage - August 10, 1970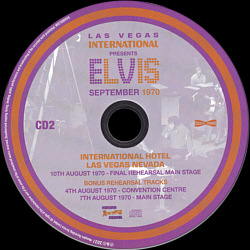 Matrix number: 2100010004321 www.keyproduction.co.uk IFPI LK97 IFPI AEW52
01
02
03
04
05
06
07
08
09
10
11
12


13
14
15
16


17
18
You Don't Have to Say You Love Me (1)
I Just Can't Help Believin'
Something
Sweet Caroline
Polk Salad Annie
You've Lost That Lovin' Feelin' (1)
I've Lost You
Bridge Over Troubled Water
Patch It Up
Can't Help Falling In Love
You Don't Have to Say You Love Me (2)
You've Lost That Lovin' Feelin' (2)

Bonus Rehearsal Tracks - August 8, 1970
I've Lost You (1)
I've Lost You (2)
Something
Don't Cry Daddy

Main Stage - August 7, 1970
You Don't Have to Say You Love Me
Twenty Days And Twenty Nights
02:08
04:35
03:34
02:46
03:51
04:25
03:41
04:18
03:38
01:44
02:05
04:17


04:01
04:02
03:37
03:15


04:10
04:45

Press note;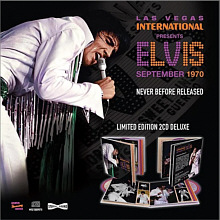 This CD set contains a previously unreleased concert from 2nd September 1970.
It dates from one of the most memorable periods in Elvis' career - towards the end of his captivating performances at The International Hotel Las Vegas, during the summer of 1970.

The bonus CD includes the final rehearsal recording from the start of the summer festival 1970 engagement on 10th August.

The accompanying 40 page booklet includes rare photographs and memorabilia taken during this memorable festival, along with scene-setting introductory notes.