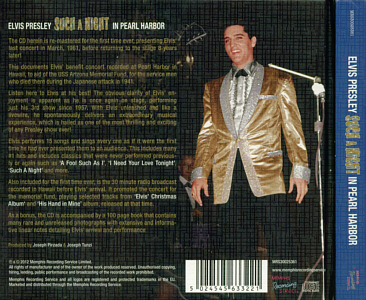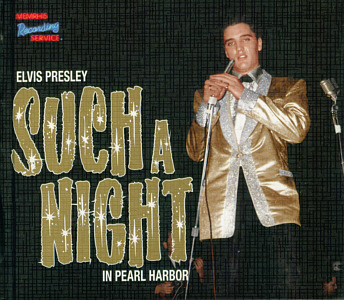 Manufactured and distributed by Memphis Recording Servise, 2012.
100 pages hardcover book with CD, running time 78:32. Catalog number MRS30025361.

UPC/EAN: 5024545633221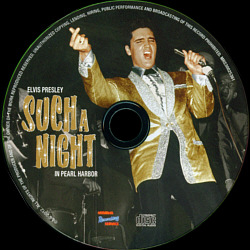 Matrix number: MRS30025361 01 Sony DADC www.keyproduction.co.uk IFPI AEW47 IFPI LY34
01. Elvis Arrives In Pearl Harbor Hawaii
02. Elvis Receives Honorary Award Pearl Harbor, Hawaii

8.30pm. USS Arizona Memorial Show. Bloch Arena Pearl Harbor, Hawaii
03. Intro
04. Heartbreak Hotel
05. All Shook Up
06. (Now and Then There's) A Fool Such As I
07. I Got A Woman
08. Love Me
09. Introductions
10. Such A Night
11. Reconsider Baby
12. I Need Your Love Tonight
13. That's All Right
14. Don't Be Cruel
15. One Night
16. Are You Lonesome Tonight
17. It's Now or Never
18. Swing Down Sweet Chariot
19. Hound Dog

March 18th 1961. Elvis Salutes the USS Arizona
A preview radio broadcast, paid for by Col Tom Parker, of Elvis singing songs of faith and devotion in preparation for the benefit USS Arizona memorial fund concert.
Features include special announcements, appeals and interviews.

20. Part 1. Featuring "Take My Hand Precious Lord"
21. Part 2. Featuring "I Believe in the Man in the Sky"
22. Part 3. Featuring "It is No Secret"
23. Part 4. Featuring "Milky White Way"
24. Part 5. Featuring "He Knows Just What I Need"
25. Part 6. Featuring "I Believe"
26. Part 7. Featuring "(There?ll Be) Peace in the Valley (For Me"
Press note:
The CD is re-mastered for the first time ever, presenting Elvis' last concert in March, 1961, before returning to the stage 8 years later!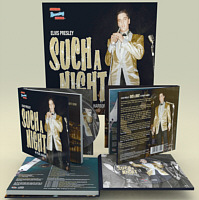 This documents Elvis' benefit concert recorded at Pearl Harbor in Hawaii, to aid of the USS Arizona Memorial Fund, for the service men who died there during the Japanese attack in 1941.

Listen here to Elvis at his best! The obvious clarity of Elvis' enjoyment is apparent as he is once again on stage, performing just his 3rd show since 1957. With Elvis unleashed and like a livewire, he spontaneously delivers an extraordinary musical experience, which is hailed as one of the most thrilling and exciting of any Presley show ever!

Elvis performs 15 songs and sings every one as if it were the first time he had ever presented them to an audience. This includes many #1 hits and includes classics that were never performed previously or again such as "A Fool Such As I", "I Need Your Love Tonight", "Such A Night" and more.

Also included for the first time ever, is the 30 minute radio broadcast recorded in Hawaii before Elvis' arrival. It promoted the concert for the memorial fund, playing selected tracks from Elvis' Christmas and 'His Hand in Mine' album, released at that time.

As a bonus, the CD is accompanied by a 100 page book that contains many rare and unreleased photographs with extensive and informative linear notes detailing Elvis' arrival and performance.