Note:
Double LP release with bonus CD.

Press announcement (sic):
To be released soon (early of March) from the "VV" label for the first time in vinyl the very first show ever recorded from the magical Elvis' first Las Vegas season titled "RETURN THE PELVIS" and will feature the Las Vegas August 03, 1969 Dinner Show. We are glad and overall happy to have the possibility to produce FOR THE SECOND time a show from Elvis very first season.
As Always VV attitude is to present Elvis at the peak of his possibility and without doubt this seminal record present Elvis at his top. Both vocal and physical. "Elvis appears better than ever" delivering incredible show without weak spot. If Rock is attitude, the man got it as never.
<< 1s performance in 9 years>> as most the headlines of the newspaper review report. The king is finally back to live performance. After to spent or wasted the last decade making movies the king is back. Dressed in black tunic with long and neatly combed hair Elvis stepped on stage giving like to the hysteria again stopping the time or better bringing back to the 1956 again.
In seventy crazy minutes Elvis gives life to his best, spacing and personalizing all music kinds as nobody can do it...no other words are necessary.
The limited edition box set is housed in a deluxe 300 grams gatefold sleeve that includes together the double vinyl set will be included as Bonus the CD and incredible large Poster 90x60 cm both side printed

.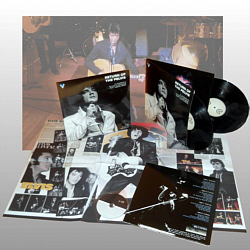 See below for much details about the contents:
Double vinyl 180 grams!!!!, including the incredible Las Vegas August show with the best audio possible!! A Soundboarding recording from the improved sound FOR THE FIRST TIME in a double high valued collector vinyl set, 33 rpm speed.
SPECIAL LIMITED SET INFO
First 50 copies of This set will come with a glossy exclusive Oversleeve Hand Numbered with exclusive contents.
Each copy will be individually sealed.
The LP 180 VINYL GRAM, IT BRINGS TO THE BEST AUDIO QUALITY TO DATE!!!!is a LIMITED HAND NUMBERED 400 COPIES
Please remember!! As usually VV DECIDED TO PRODUCE A LIMITED BOXED DELUXE EDITION OF 100 COPIES WITH EXCLUSIVE CONTENTS..ask details to your dealer!!!.
COLLECT THEM ALL!!!!!!
We always tryin' to give more, We hope of this new release will be a real great update of your Elvis' live show collection.
LP tracks:
SIDE A
01. Opening Theme / 02. Blue Suede Shoes / 03. I Got A Woman / 04. All Shook Up / 05. Love Me Tender / 06. Jailhouse Rock/Don't Be Cruel
SIDE B
07. Heartbreak Hotel / 08. Hound Dog / 09. Memories / 10. Mystery Train/Tiger Man / 11. Life Story / 12. Baby What You Want Me To Do
SIDE C
13. Are You Lonesome Tonight? / 14. Yesterday /Hey Jude / 15. Band Introduction / 16. In The Ghetto
SIDE D
17. Suspicious Minds / 18. What'd I Say / 19. Can't Help Falling Love