The CD is a plain copy of the the earlier released title "
Vegas Rhythm
" by the same label.
Press note, November, 2014:

"ELVIS, VEGAS RHYTHM" REVISITED
Directly from SOUNDBOARD recordings Series no.2
February 3rd, 1973 Las Vegas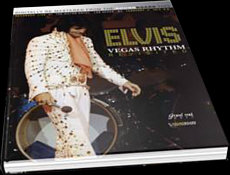 Coming out soon is the second release from our new soundboard recordings series. Gravelroad Music BRANDNEW Deluxe 110+ pages book with Soundboard CD "ELVIS, VEGAS RHYTHM REVISITED" featuring the February 3rd, 1973 Dinner show.
Plus on Multi Media DVD in full format 2 extra shows February 2nd, Midnight Show and February 3rd, 1973 Midnight Show and 45 Minutes 8 mm footage of the January/ February Vegas Season.


"We received many request to reprint of this fantastic CD, we never did… At the time not to many were printed.

Why did we do it now? Because we could seriously upgrade it! "
A DELUXE FULL COLOR HARDCOVER BOOK with 45+ minutes 8 mm Footage of January/ February 1973 and 3 SOUNDBOARDS fully re-mastered in amazing sound! And over 85+ amazing and rare photos many page size. Extended liner notes, a lot of background information about the CD in one package!!
It is time for the ultimate re-release of this special concert!
This is "ELVIS – VEGAS RHYTHM REVISITED" a deluxe hardcover book with 110+ pages and many (85+) amazing beautiful page size photos of the show, essential liner notes, background information and news
All in crisp dynamic sound!
The being there feel is present with all 3 soundboards Fully re-mastered in the way it should have been! Some fans will revisited their option to about these other shows, The Elvis show sounds simply fantastic!
The audio is taken directly from original soundboard tape transfers and it shows…. Every second is digitally restored from scratch to achieve optimal listening pleasure. Ask your dealers for samples!
If you liked VEGAS RHYTHM before, you going to LOVE the VEGAS RHYTHM REVISITED !
Gravelroad Music' "ELVIS, VEGAS RHYTHM REVISITED" is Limited to 550 copies worldwide, in the best possible artwork & audio!
IN SHORT :
A DELUXE FULL COLOR HARD COVER BOOK 110+ pages.
Over 85+ Full color photos of January – February incl. rare ones.
Extensive liner notes, with a lot of background information about the legendary VEGAS RHYTHM February 3rd Dinner show.
3 SOUNDBOARDS fully re-mastered in amazing sound!
45min 8mm footage of this 8th Las Vegas season combined to one complete show.


---------
DVD